2019.02.14
Delta Data Center Solution Day will present strategies for preparing the data center for the IoT era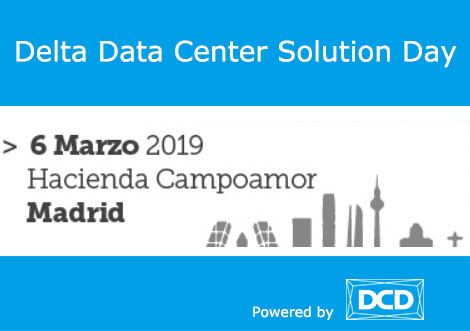 The event organized by DCD will feature experts from home and abroad and bring IT leaders from leading Spanish companies together
Delta Data Center Solution Day will bring IT leaders from leading Spanish companies together for a special morning of conferences and networking. The event will take place on March 6 at the Hacienda Campoamor Business Center (Carr. de Burgos, Km 23, 100, 28709 - San Sebastián de los Reyes, Madrid).
During the event, leaders in technology will have the opportunity to learn about industry news and trends from national and international experts as well as the solutions offered by Delta and some of their success stories.
To help the leading figures define their data center strategy, the following topics will be explored: How does the new technology affect the data center? What are the challenges faced by data center managers in terms of reliability, resiliency, and ROI? How do you decide if your data center should be local, modular or a colocation?
Rakesh Mukhija, Senior Director of Delta MCIS EMEA, will open the event with this. The program will also feature international speaker Daniel Bizo, Senior Data Center Analyst at 451 Research, who will present "Ten technologies that will change the data center forever", as well as Luca Beltramino, Senior Vice President | Global Programs at Uptime Institute, with the topic "Helping the next generation data center achieve the right performance."
Furthermore, "The Rising Challenges of Data Centers in IoT era" will be the title of the presentation by Fernando Recuero, Head of Sales MCIS Iberia at Delta, while Iván Nedic, Engineering Manager | Data Center Solution at Delta, will address the topic "Enabling Next-Gen Data Centers."
"We are delighted to organize this event for the industry together with DCD. We believe it is our job to help the industry in its development through these initiatives. It will be a day full of knowledge and networking that cannot be missed," comments Fernando Recuero.
To end the morning of knowledge and networking, Delta Data Center Solution Day participants will be offered a wine tasting, lunch and closing cocktail. Places are limited.
For more information, please go the Delta Data Center Solution Day website or phone: 911 331 762.