DPH Series UPS, Three Phase, 15-105kVA, 208V
Introduction
Product available regions :

North America, South America




Because product specifications vary slightly from region to region, please download your local leaflet or visit your local website for detailed product information.
Fully integrated power solutions in one 42U cabinet for small data center applications
The Modulon DPH supports ultimate availability for datacenter operations and provides the benefit of "pay as you go" without over-sizing the UPS. While achieving ultimate availability, the Modulon DPH does not compromise on power efficiency performance. When availabil- ity, efficiency and expanding according to business needs are essential, the Modulon DPH is the ideal UPS system to provide power protection and total cost of ownership (TCO) savings.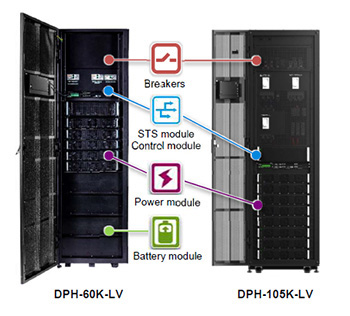 Applications: