2019.06.27
Delta Unveils Megawatt UPS for Hyper-scale Data Centers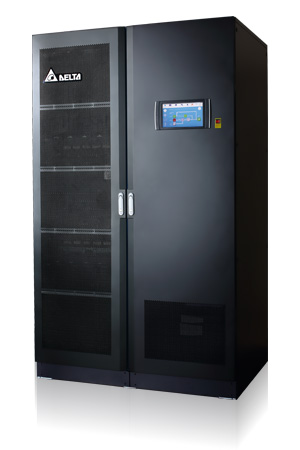 Delta's Ultron DPS 600kVA UPS features megawatt power capacity with parallel configurations and the world's smallest footprint, which makes it the best suited backup power solution for hyper-scale data centers that greatly require power density and space utilization.
TAIPEI, Taiwan, 27 June, 2019. Delta, a global provider of power and thermal management solutions, announced the global launch of its Ultron DPS series 600kVA uninterruptible power supply (UPS) in response to growing demands from colocations or cloud service providers to build hyper-scale data centers. The Ultron DPS 600kVA is a monoblock UPS system, which supports megawatt power capacity with up to 8 parallel units and the world's smallest footprint, and creates more space for revenue-generating IT racks. The new DPS series features proactive intelligence. By self-diagnosing the status of key components and the system, the UPS gives pre-warnings to IT managers to minimize downtime risks, and further lower the total cost of ownership.
As new technologies such as IoT, 5G and AI, drive the global need for data computing, storage and transmission, the rapidly growing complexity of IT infrastructure requires companies to turn from enterprise-owned data centers to colocation service or cloud service providers. According to the market research company IHS , colocation market revenue has grown approximately 10% per year, and cloud services have grown more than 20%. IHS predicts the data center market will continue to shift toward fewer but larger data centers, a change that will lead to UPS evolution as well.
"Our new Ultron DPS 600 kVA was made for hyper-scale data center applications. During our deep engagement with colocation and cloud customers, we have seen their requirements. In addition to reliability and efficiency, they have an urgent need for megawatt power capacity, an optimized footprint, and smarter management to facilitate their operations and maintenance for such IT-heavy hyper-scale data centers," said Dr. Charles Tsai, CTO of Information & Communication Technology Infrastructure Solutions Business Group (ICTBG) at Delta Electronics. "With the launch of our Ultron DPS 600 kVA series, we believe we offer the competitiveness to help our customers maximize space utilization and mitigate downtime risks, which as a result, gives them more profits."
The Ultron DPS series is Delta's next-generation monoblock UPS system, designed with enhanced availability, performance and manageability. In terms of availability, the DPS 600kVA supports parallel configuration for redundancy and expansion to avoid single points of failure, and its self-diagnosis and event analysis functions can notify IT managers when foreseeable errors occur, and allow preventive maintenance. Along with the fully-front access design, the MTTR (Mean Time to Repair) can be significantly reduced.
Another major breakthrough is the power density. So far the DPS 600kVA can deliver up to megawatt capacity with parallel configuration. With the coming addition of the 1200kVA UPS, the new DPS series can even provide megawatt power in a single rack. Compared with similar products on the market, the new DPS series UPS is a competitive product with the highest power density and the smallest footprint, addressing the increasing requirements of colocation and cloud service providers.
Key Features of the Ultron DPS 600kVA series UPS:
World's highest power capacity and smallest footprint
Self-diagnosis with pre-warning functions
Unity output power factor
AC-AC efficiency up to 96.5% and ECO mode up to 99%
Parallel configuration up to 8 units
Redundancy design of key components
Li-Ion battery ready
10" color touch panel with graphical user interface