Micro Data Center
Delta InfraSuite is a new generation, highly integrated modular datacenter solution. It uses racks as the datacenter carrier and fully integrates all sub-systems including UPSs, cooling, power distribution, lightning protection, fire control (optional), wiring, airflow management, intelligent monitoring, and more. Delta's modular datacenter solution offers a datacenter environment that provides safe equipment operations within the racks, and supports the development and standardizing of micro datacenters that fit into racks. In addition, Delta InfraSuite takes up very little space, allowing quick deployment within a limited space, and it provides 10 types of solutions that require 20kVA power supply capabilities.
Applications
Delta InfraSuite can be applied in micro datacenters under 50 square meters or with an IT load under 20kVA. It is suitable for regional or small business environment IT applications.
Advantages
High availability
Supports the highest Class-A availability level
Satisfies the three national standard GB50174 A, B and C availability levels and provides N, N+1 or 2N configurations according to customer needs. It satisfies the highest Class-A level.

Highly reliable emergency cooling
The mechanical structure enables the cooling system whenever messages such as over-temperature are detected. It provides a highly reliable power supply system and does not require a UPS or take up UPS resources.

Distributed control increases reliability
The distributed control system is used for air-conditioning, UPS, environment and smart rack (temperature and humidity, lighting, PDU, door sensor, and more). The normal display and uploading of other equipment messages is not affected even if one of the controllers malfunctions.
Optimization of total cost of ownership (TCO)
Energy-saving. PUE less than 1.4
A hot or cold aisle containment system effectively isolates the mixing of cold and hot air. In rack cooling with horizontal air flow is used to reduce hot spots in datacenters. The UPS has high AC-AC efficiency up to 94% or more even at half load.

Space-saving, superior space efficiency
The in-rack cooling system uses a backward centrifugal fan and the dash of the centrifugal fan is inside the cold aisle. The horizontal air flow is used to reduce resistance and shorten the distance of the cold aisle. A depth of 1200mm is perfectly integrated with the datacenter floor layout and saves foot space.
High adaptability
Quick deployment
Suitable for mid/small datacenter applications such as government, education, finance or SMBs. Offers flexibility, has short construction periods, and can be expanded at any time without the need for excessive investment.

Availability level can be adjusted at any time
Adjust the availability level of the system at any stage, including design, installation or operations. The power supply system and cooling system do not need redesign.
Smart management
Datacenter environment and security information can be connected
Signals for the temperature and humidity of the datacenter, smoke detection, datacenter access, datacenter IP camera, and others can be connected to the standard management system. The system is plug-and-play with no need for redevelopment.

Whatsapp alarm and mobile APP
While an SMS alarm requires additional charges, the use of the Whatsapp alarm not only cuts down cost, but is also more suited to current trends. Mobile APPs allow the maintenance and management staff to find out system operation information at any time and place.

Inbuilt access control in the system cabinet
Prevents non-professional staff from misusing equipment such as UPS or cooling and causing system crashes. Access systems are equipped on the front and rear doors of the system cabinet and only authorized personnel can enter the password on the touchscreen to open the doors. The doors can be opened manually with keys if the access system malfunctions.
Configuration (selected)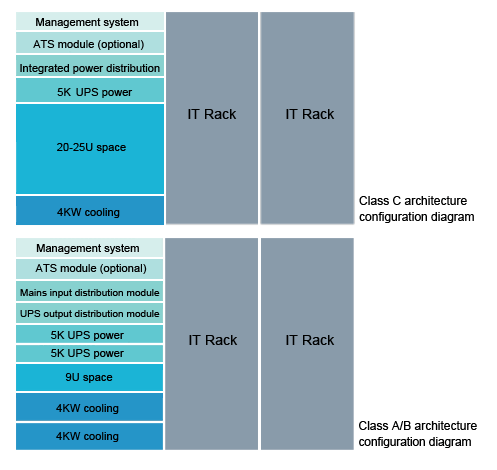 Note:
* Above configurations as an example.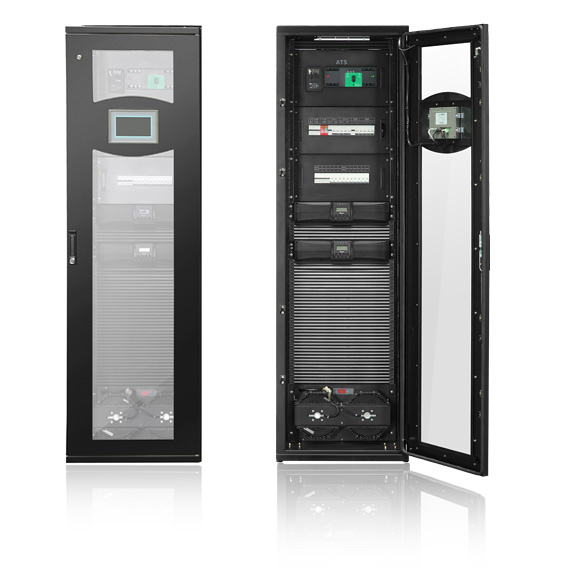 Product availability varies by country.

This is a customized solution and is recommended for larger projects. The detailed specifications vary according to the customer's requirement.



For further inquiries, please contact datacenter.solution@deltaww.com