2019.09.24
Delta and HTC-ITC Sign Contract to Build Vietnam's First Uptime Certified 2N T3 and Green Data Center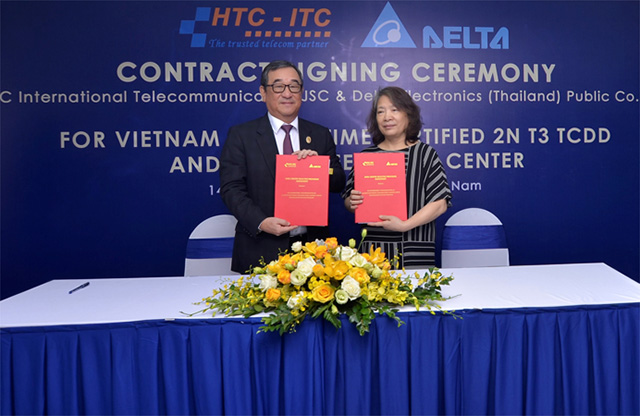 Delta Electronics signed a contract with HTC-ITC, a subsidiary of Hanoi Telecom, to build Vietnam's first 2N (two times the amount required for operation) Tier 3 Uptime (99.982% uptime) certified data center at HTC building in Hoa Lac High Tech Zone a Data Center in Hoa Lac. The new data center will operate according to Tier 3 standards of Uptime Institute, the world's most prestigious data center certification organization.
"Delta is working with HTC-ITC to provide users in Vietnam with better connectivity by creating an innovative data center that offers reliable, flexible and green operations," Mr. Hsieh Shen-yen, Delta's president for South East Asia and India region, said at the ceremony. "HTC-ITC chose Delta for this project because we offer advanced data center infrastructure technology that enables high energy efficiency and savings that reduces OPEX."
HTC-ITC is a telecommunications company specializing in infrastructure and transmission services with a nationwide fiber-optic network of almost 10,000 km in Vietnam and international connections. Ms. Trinh Minh Chau, Chairman of HTC-ITC, said that the company's new Data center will help them provide the best quality service to customers in Vietnam and around the world.
The milestone project with Delta and HTC-ITC marks the first data center installation in Vietnam with Tier 3 Uptime build standard. During the eight-month construction period, Delta will leverage data center infrastructure solution for rapid installation, energy-saving, optimal PUE and a modular and scalable architecture.
The new Tier 3 green data center will serve organizations and businesses operating in Vietnam, both local and from overseas, and satisfy their need for a high level of service in terms of features, stability and information security. Delta offers a turnkey solution from design, implementation and TCDD, TCCF Uptime certificates equipment along with excellent local SI for support.
As a global data center infrastructure solutions provider, Delta works to develop and install localized total solutions for the data centers of global customers. The high performance, energy-efficiency and flexible operations of Delta's data centers offer stakeholders excellent value-add and deliver on the company brand promise: Smarter. Greener. Together.