2019.05.29
Datacenter Dynamics España 2019 in Madrid—Delta presents its vision of next-gen datacenters with advanced DCIM and UPS technologies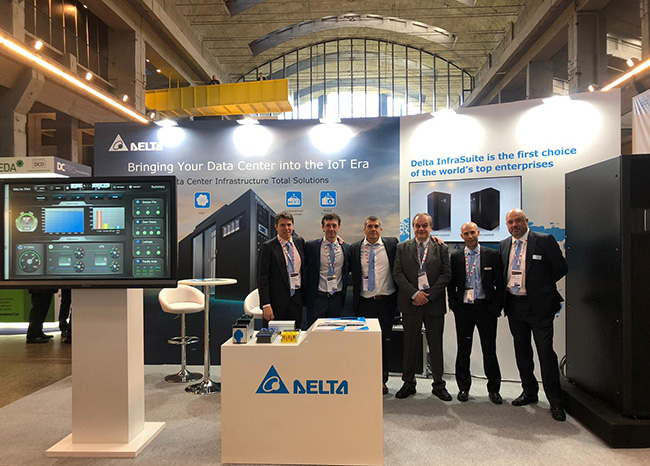 Gartner predicts 80% of businesses will have closed their conventional data centers within the next six years. That's why the annual Datacenter Dynamics (DCD) España conference, which took place on May 29 in Madrid, focused on how the future of the data center and cloud infrastructure will be built in Spain. As one of the event's lead sponsors, Delta had a booth and held a presentation that described a unique way to accelerate data center ROI.
Datacenter Dynamics is one of the leading media outlets in the data center space and holds conferences across five continents. The events focus on IT infrastructure for the cloud, the IoT, and smart cities. The DCD España conference took place for the 12th time this year—with more than 1000 visitors, 70 speakers, and 60 sponsors in attendance. Digital transformation and edge data centers were two of the key trends highlighted this year. To master this transformation, Delta's product portfolio offers companies essential technologies and infrastructure.
How Delta is enabling next-gen data centers
At the Delta booth, the leading power and electronics provider's modular DPH500 UPS was on display along with the Delta DCIM infrastructure management solution. Both technologies represent crucial components of the data center of the future.
In his presentation on "Enabling next-gen data centers," Mikael Berggren, Director of Business Development, Data Center ICTBG at Delta, recommended companies to continue to focus on the three R's—Reliability, ROI, and Resiliency—in the future. Delta helps companies achieve all these objectives with a full range of infrastructure solutions.
With 4 billion mobile devices expected to be connected to the IoT by 2024, things will have to move quickly. Delta's prefabricated data center modules, all-in-one CDCs, PODs, and power containers allow rapid data center construction and faster ROI. These solutions also improve data center efficiency and reduce operating costs, contributing to long-term profitability and sustainability.

High-density three-phase UPS and DCIM solution
At the Delta booth, visitors saw the world's highest-per-module-density three-phase UPS, the Delta DPH Modulon 500. Floorspace will remain a scarce resource in the future, forcing data center power densities to continue to rise. At a record-breaking 50kW per module, Delta's extremely high-density three-phase DPH 500 UPS is perfectly positioned to provide reliable power to the data center of the future. The DPH 500 allows megawatt-scale data center operators to lower their total cost of ownership.
The InfraSuite Manager is a fully featured data center infrastructure management solution (DCIM) that brings automation and visibility to the data center. It reduces PUE (power usage effectiveness) and provides monitoring and dashboards across the entire infrastructure.
"There are a lot of reasons why our customers invest in our DCIM solution," Fernando Recuero, Head of Sales MCIS Iberia at Delta. "Being able to see the overall environment and layout of the entire data center including equipment status is a huge advantage. They get chiller plant status, power diagrams, alerts, and reports. We can even include access control, surveillance, asset management, and rack utilization—across multiple sites if needed. All of this helps reduce costs and increase efficiency, things that will be super-important for the data centers of tomorrow."
Delta booth helps establish valuable connections
The Delta exhibition enjoyed a steady stream of visitors and the team at the show was satisfied with the positive feedback on the presentation and the booth. "We always come home from DCD with a lot of interesting new contacts," said Mr. Recuero. "We're going to spend the next few weeks following up on the conversations we had about edge computing and the future of the datacenter there."