2015.03.02
Delta extends Ultron DPS series UPS as a highly efficient backup power for green datacenters and other mission critical operations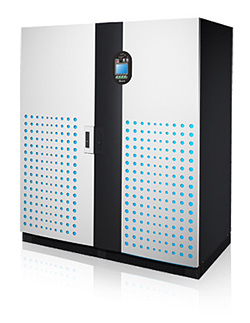 Delta Electronics, the world-leading energy-saving solutions provider, today launched its Ultron DPS 500kVA uninterruptible power supply (UPS) in China, Taiwan, EMEA, Russia, India and South America. The Ultron DPS 500kVA extends the existing line of 60-400kVA models, strengthening Delta's position as a provider of high performance and high efficiency UPSs.
"Witnessing the global trend of datacenter consolidation and scale up, we are rolling out our DPS 500kVA model, which can be paralleled up to 8 units (4MVA in total) for power expansion or N+X redundancy, to meet the growing power demand of large and extra-large datacenters." said Mr. Dennis Lin, Chief Engineering Officer of Delta Mission Critical Infrastructure Solutions (MCIS) Business Unit. In addition to its large power capacity, the DPS series also features high AC-AC efficiency of up to 96% at 50% load and above as datacenter customers are becoming more eco-conscious. Even at light loads of 20-30%, which is the typical datacenter load, the efficiency can be 92-93%, saving significant operating costs.
Since the DPS UPS series was introduced to the global marketplace in 2012, it has received much recognition and praise by customers from various fields. With the roll out of the 500kVA model, the Ultron DPS series now ranges from 60kVA to 500kVA and can be applied to multiple vertical markets. Besides computing services and datacenters, the DPS series has also found application in the power protection of mission critical equipment in industries such as healthcare, infrastructure, telecommunication, manufacturing, banking and finance, and more.
To meet the "green" requirements of customers, the Ultron DPS is designed with three level IGBT topology for both power factor correction (PFC) and inverter to achieve industry leading performance of up to 96% AC-AC efficiency. In addition, thanks to Delta's advanced digital PFC control, it also offers a low iTHD < 3% and high input power factor > 0.99. "Delta's Ultron DPS series continues to offer customers the benefits of superior power protection, high energy efficiency, and best-in-class TCO savings," said Dennis Lin.
More DPS Series introduction, please click here.
---
About Delta Group
Delta, founded in 1971, is the global leader in power and thermal management solutions. Our mission statement, "To provide innovative, clean and energy-efficient solutions for a better tomorrow," focuses our role in addressing key environmental issues such as global climate change. As an energy-saving solutions provider, Delta's businesses encompass power electronics, energy management, and smart green life. Delta has sales offices worldwide, with R&D centers and manufacturing facilities in Taiwan, China, USA, Europe, Thailand, Japan, Singapore, India, Mexico, and Brazil.
Throughout its history, Delta has received many global awards and recognition for its business milestones, innovative technology and corporate social responsibility. Since 2011, Delta has been selected as a member of the prestigious Dow Jones Sustainability™ World Index (DJSI World) for three consecutive years. In 2013 it was also included in the DJSI Emerging Markets Index and ranked first in six criteria among DJSI's World-leading Electronic Equipment, Instrument and Component Companies segment.
For detailed information on Delta, please visit: www.deltaww.com  .
About Delta UPS and MCIS BU
Delta's Mission Critical Infrastructure Solutions (MCIS) business unit (BU) has developed a variety of UPS solutions. Positioned as "The power behind competitiveness," the MCIS strives to play an important role in making our customers' businesses and operations more competitive. Our mission is realized by providing highly reliable and efficient power management products, including UPS and datacenter infrastructure solutions that ensure the continuity of mission critical operations and better total cost of ownership (TCO). Delta offers 4 UPS product families.
Product Family

Power

Topology

Applications

Agilon

Up to 600VA

Single-Phase UPS

Personal computers and peripherals

Amplon

Up to 12kVA

Single-Phase UPS

Servers and networking equipment

Ultron

Up to 4000kVA

Three-Phase
On-Line UPS

Data centers and industrial facilities

Modulon

Up to 480kVA

Modular UPS

Offering scalability and redundancy in a single frame
More information about Delta MCIS products can be found at www.deltapowersolutions.com .