2015.09.08
Delta at Ineltec 2015: Intelligent solutions with higher productivity and increasing energy efficiency for Energy Management, Datacenters and Telecommunication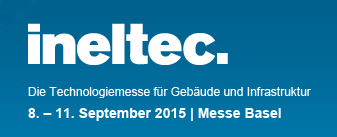 Basel, Switzerland, September 1st, 2015 – Delta, a global leader in thermal and power management solutions, will present, at Ineltec 2015, its smart energy storage solutions as well as energy efficient telecom power solutions and the newest innovation for datacentres. EnergE-Site Base includes battery storage technology with deep cycle charging dispatch (CDC Hybrid) for enhanced energy efficiency and significant fuel reduction.
Highlights of Delta products in Basel:
Energy Storage Solutions
Delta will introduce two new energy storage systems – the DC-coupled 7.4 kWh system known as the Hybrid E5 and the AC-coupled 3.7 kWh system known as Flex E3.

The Hybrid E5 energy storage system is composed of the RPI E5 hybrid inverter as well as an external battery cabinet equipped with a 7.4 kWh Li-ion battery, a smart meter and smart energy management box. The Hybrid E5 storage system is designed for new PV systems and features a high charging efficiency up to 97 %. This is made possible since the E5 inverter can send DC electricity generated by the PV system directly to the battery, without additional power conversion steps or equipment needed.

The Flex E3 is an AC-coupled energy storage system meaning it is installed directly on the AC Line, making it ideal for installation with pre-existing as well as new PV systems and is also compatible with other renewable energy sources such as small wind energy turbines. The unit consists of one compact cabinet designed to be wall mountable or floor standing with all needed equipment and software for operation included. It is available with a variety of system architectures for diverse customer needs with a single system offering storage capacity from 2.9 kWh to 3.7 kWh or with three systems in parallel offering up to 11.0 kWh depending on the selection of lead-acid or Li-ion batteries.

Infrastructure solutions for datacenters
This is an optimal option for IT managers that strive to implement green data centers. InfraSuite offers a highly integrated, adaptable, and modular architecture capable of realizing up to 25% energy savings as well as significant benefits in productivity related to installation and maintenance operations. These benefits, added to the intelligent real-time monitoring and remote control of data center facilities, achievable through the InfraSuite Manager EMS3000 software system, underscore Delta's profile as a leading provider of smart, highly integrated and eco-friendly solutions.

Telecom Network Energy Solutions
Telecom Network Energy Solutions include the EnergE-Site systems which offer diversified hybrid energy sources (traditional, battery storage and renewable) and a selected combination of state-of-the-art technologies developed by Delta such as rectifiers with industry-leading energy efficiency of up to 97.2%, advanced PLC controllers, DC-converters, power distribution units and power cabinets OutD Series.

The Delta Orion PLC Controller allows comprehensive remote monitoring and control of the system, including detailed component operations, active alarm systems and energy logs, thus, increasing the productivity of site maintenance processes.

TPU520 is a customized power supply for telecom applications. It has 12 x 2900W-Rectifiers, a controller PSC3 as well as circuit breakers and plus disconnectors for connecting 2 batteries. For the load connections there are up to 14 circuit breakers NH 2, up to 10 circuit breakers DIN 00 as well as up to 10 circuit breakers C60N.
Welcome to visit Delta's stand at Hall 1.1, stand B165 between September 08th and 11th, 2015, Ineltec, Basel.
About Delta
Delta, founded in 1971, is a global leader in power and thermal management solutions. Our mission statement, "To provide innovative, clean and energy-efficient solutions for a better tomorrow," focuses our role in addressing key environmental issues such as global climate change. As an energy-saving solutions provider with core competencies in power electronics and in innovative research and development, Delta's businesses encompass Power Electronics, Energy Management, and Smart Green Life. Delta has sales offices worldwide with manufacturing facilities and R&D centres in Taiwan, China, USA, Europe, Thailand, Japan, Singapore, India, Mexico and Brazil.

Throughout its history, Delta has received many global awards and recognition for its business milestones, innovative technology and corporate social responsibility. Since 2011, Delta has been selected as a member of the prestigious Dow Jones Sustainability™ World Index (DJSI World) for 4 consecutive years. In 2014, Delta was ranked at the highest A-level of the Climate Performance Leadership Index (CPLI) of the Carbon Disclosure Project (CDP), and it was the only company from Greater China to be named to the CPLI from nearly 2,000 listed companies.

For detailed information about Delta, please visit: www.deltaww.com.
Media Contact:
Andreas Schmidt
Head of Marketing
Delta Electronics EMEA
T: +49 (0)7641455252
E: andreas.schmidt@delta-es.com
Colleen Ho
Communications Manager
Delta Electronics EMEA
T +31 (0)20 655 0977
E : press@delta-emea.com
     colleen.ho@delta-europe.com