Converged Power
With Eltek's (a Delta Group company) Converged Power Solutions, the next generation power solution for data centers is here. It offers unmatched availability, scalability and compactness compared to traditional systems – in a simpler way, and at a lower total cost of ownership. It is designed to power your data centers into the future – and is available today. Converged Power Solutions (CPS) offer a modular and flexible infrastructure to meet all data center power requirements within IT, telecom, cloud and banking sectors. It provides an unprecedented power availability for telecom, IT and cooling equipment in a very power dense solution.
Easier and Cheaper Operations
Removes complex, risky, switchgear
Scales small to huge for any site, from 100% VAC to 100% VDC in your best mix
VDC plinth naturally load balances, parallels and synchronizes always
One architecture to train for all apps, and concurrent maintenance
Inherent controllers, DCIM options
Easy front-loading modular design using 600mm square cabinets matching floor grid
Live GenSet testing any time
Industrial Availability allows time to repair or upgrade at your own pace
CPS Solutions
Original CPS
The foundation in the Converged Power System is a 380Vdc system busbar and battery voltage, matching the new «high voltage DC» UPS standard for data center and ICT applications. In its basic configuration, the CPS is a pure 380Vdc rectifier system with batteries and DC distribution feeding power to the server rooms with a minimum of conduction and conversion losses. The rectifier system is based on Elteks well proven High Efficiency technology in a truly modular and scalable configuration.
To cater for the fact that the 380Vdc standard is still not widely spread, the CPS can be extended with modular DC to AC UPS inverter based cabinets, connected to the 380Vdc bus/battery bank via a galvanically isolated DC input stage. With this concept the customer is free to select configurations with only VAC output, only VDC output, or any combinations of AC and DC, without compromising efficiency or reliability, and with the flexibility to expand the solution in either direction after installation.
On the AC input side, the CPS offers a unique alternative to the traditional Automatic Transfer Switch (ATS) between grid and diesel genset.
The ATS is a single point of failure in a traditional UPS configuration. With the CPS, the customer can avoid the ATS altogether by having a second rectifier system connected directly to the genset. This solution is particularly attractive in installations where frequent genset operation can be expected, due to unstable mains or peak shaving operation. During scheduled genset maintenance tests, the mains connected system will remain live and in standby, securing uninterrupted power to the critical loads should the genset fail.
4 options of down conversion
Direct VDC feed to dedicated front end server power supplies (e.g. open computing)
Direct VAC feed to conventional front end server power supplies. When a major part of the total load is VAC
VDC feed to inverter cabinets that provide end-of-row conversion to VAC. When a small portion of total load is VAC
380Vdc feed to DC/DC converter cabinets that provide end-of-row conversion to 48Vdc, to feed legacy telecom equipment. Smaller, in-rack solutions are also available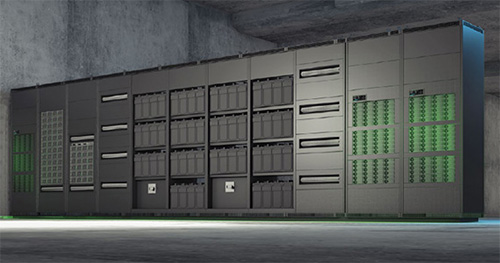 Mini CPS
A fully scalable power infrastructure can be achieved with Mini CPS solutions. These are downscaled, but complete, CPS solutions, dimensioned to support a single row of server cabinets.
They provide all the advantages of a full scale system. In addition, they provide great flexibility, as the power infrastructure can be expanded as you grow, and the power systems can be adapted to the requirements in each row of cabinets.
The Rectiverter is a bidirectional 3-port power conversion module. It combines the functions of a rectifier and an inverter and eliminates the need for a static switch. This makes it an ideal solution for mixed AC and DC environments.
Key features
Combined VAC and 48Vdc UPS with up to 100kW total capacity
Two cabinet solution including batteries and distribution
Optional rectifier system connected to diesel genset
Applications:
» End-of-row power system in datacenters, feeding a mix of AC and DC equipment
» Containerized, modular datacenter solutions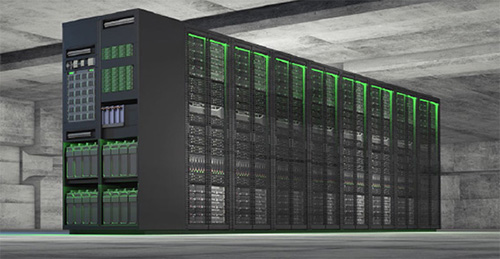 AC CPS
The AC CPS is a combination of an AC inverter system and a separate DC rectifier system.
This solution replaces the conventional Automatic Transfer Switch (ATS) which often is a single point of failure, and also makes it possible to run a live full-load generator test without disconnecting the mains supply.
The AC-based CPS is built on Eltek's 25/50kW Inverter Module providing high efficiency power conversion, redundancy and hot-swap capability. Each cabinet can be configured up to 200kW/450kW, and with system scalability up to 1000kW/3600kW by paralleling cabinets.
The rectifier system connected to the diesel genset is built on Eltek HE rectifiers to ensure world class conversion efficiency, and is supporting the batteries in providing DC power to the inverter during long mains outages.
Key features
AC inverter system with optional genset connected rectifier system for enhanced reliability and safe genset testing
Cost effective, high quality solution for pure AC UPS applications
Compatible with the Infrasuite Building Management System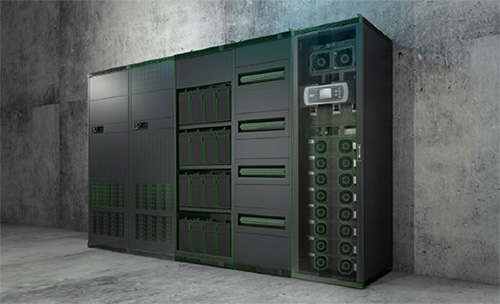 Eltek (a Delta Group company) Converged Power Solutions