2015.02.26
Avnet Technology Solutions and Delta Energy Systems Partner to Deliver Cleaner, Greener UPS Solutions in Australia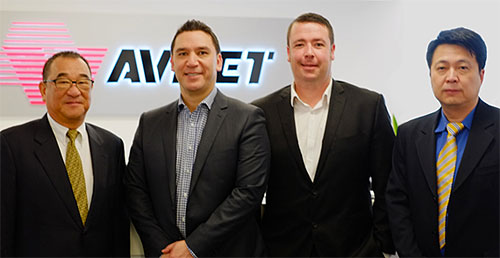 Delta Energy Systems, the global leader in power and thermal management solutions, and Avnet Technology Solutions, the global IT solutions distribution leader and an operating group of Avnet, Inc. (NYSE: AVT), together announced today that they have signed a distribution agreement. Under the agreement, Avnet's Australian channel partners will now have access to Delta's full
Uninterruptable Power Supply (UPS)
range which is trusted by leading organisations across a wide array of industries, from financial institutions and medical centres to small businesses.
"Signing Delta reinforces our continued focus on solutions distribution and provides yet another profitable growth leverage point for our partner ecosystem", says Darren Adams, vice president and general manager, Avnet Technology Solutions, Australia and New Zealand. "Delta's innovative UPS range, including the HPH, RT and GAIA Series, delivers best-of-breed UPS technology, designed with high power performance and efficiency in mind. We look forward to bringing these reliable solutions to our partners within Australia."
Taking advantage of Delta's highly reliable and efficient power management, UPS products and datacentre infrastructure solutions will enable Avnet's customers to be increasingly competitive in the mission critical power supply space. Headlining these solutions for small-medium applications, the HPH Series features leading AC-AC efficiency up to 96%, low input current harmonic distortion (<3%) and unity power factor, while the entire range enjoys the safety of double-conversion topology, compact design and superior power performance, to provide the ultimate availability and reliability for protecting IT loads.
"We are excited to align our brand with a corporation that shares Delta's core values of quality, transparency, integrity and community care, and truly values our underlying philosophy of creating innovative and efficient technology solutions for a sustainable future," says Allen Chao, director, Delta Energy Systems Australia. "We look forward to establishing a long-term, mutually beneficial partnership with Avnet that is built on loyalty and trust."