2015.03.12
Delta to Demonstrate Modular Datacenter and IT Power Management Solutions at CeBIT 2015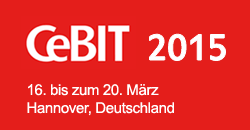 Amsterdam, March 12, 2015 - Delta Electronics, the world-leading energy saving solutions provider, joins CeBIT, the world's largest business IT and ICT event, to showcase its innovative IT power management and datacenter solutions simultaneously. InfraSuite is a total solution for enterprises that seek to optimize their data centers' power usage effectiveness (PUE) while saving approximately 25% in operating costs through higher scalability, reliability, energy efficiency and manageability to "Protect the Moments that Matter".
This year, CeBIT's new joint venture with DatacenterDynamics creates the world's largest international data center event. Fully understanding IT managers' needs in this era of Big Data with the challenges of data growth and the scalability of datacenter infrastructure, Delta showcases InfraSuite, its fully integrated and scalable datacenter architecture and smart environmental management InfraSuite Manager (EMS3000) with real-time monitoring and remote control functions. Featuring "Smarter Modular Datacenter Solutions" at CeBIT's Hall 12, Delta InfraSuite presents the following core benefits:
In the Planet Reseller exhibition at Hall 15, Delta demonstrates single-phase UPSs focusing on "Smarter IT Power Management" for IT resellers:
Reliable and Green Power Solution:
To support network devices, security, surveillance systems and POS systems of small and medium-sized enterprises, Delta offers the single-phase UPSs Amplon M 1-3k and RT 1-10k for reliable and efficient power protection. Delta will also display a single rack IT power management solution for easy 1+1 redundancy by using the Delta RT UPS, which meets TIA-942 Tier 2 reliability requirement. The static transfer switch (STS) plays a key role for power redundant configurations for high reliability.  

Intelligent UPS Management Solution:
Delta's UPSentry and ShutdownAgent support customers to better prevent data loss and protect the IT equipment behind the UPSs.
You are welcome to visit Delta's stand at D26, Hall 12 (DatacenterDynamics) and F52, Hall15 (Planet Reseller) during CeBIT 2015 in Hannover, Germany from March 16th to 20th to see our datacenter and power management solutions for smart IT business.
About Delta
Delta Electronics, Inc., founded in 1971, is a global leader in power and thermal management solutions. Our mission statement, "To provide innovative, clean and energy-efficient solutions for a better tomorrow," focuses our role in addressing key environmental issues such as global climate change. As an energy-saving solutions provider with core competencies in power electronics and in innovative research and development, Delta's businesses encompass Power Electronics, Energy Management, and Smart Green Life. Delta has sales offices worldwide with manufacturing facilities and R&D centers in Taiwan, China, USA, Europe, Thailand, Japan, Singapore, India, Mexico and Brazil.
Throughout its history, Delta has received many global awards and recognition for its business milestones, innovative technology and corporate social responsibility. Since 2011, Delta has been selected as a member of the prestigious Dow Jones Sustainability™ World Index (DJSI World) for 4 consecutive years. In 2014, Delta was ranked at the highest A-level of the Climate Performance Leadership Index (CPLI) of the Carbon Disclosure Project (CDP), and it was the only company from Greater China to be named to the CPLI from nearly 2,000 listed companies.
For detailed information about Delta, please visit: www.deltaww.com
Media Contact:
Andreas Schmidt
Delta Electronics EMEA
Telephone: +49 07641455252
Email: andreas.schmidt@delta-es.com  

Colleen Ho
Delta Electronics EMEA
Telephone: +31 206550977
Email: colleen.ho@delta-europe.com