2015.04.20
Delta Showcases Smart Solutions for Automation and Energy Management the World's largest Industrial Fair, Hannover Messe 2015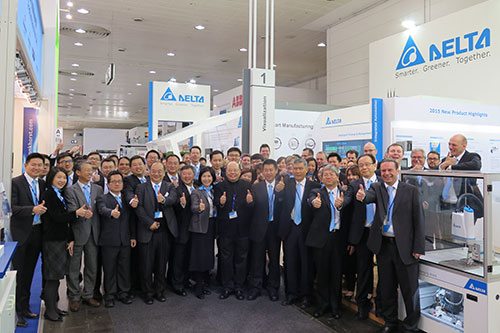 Delta is showcasing its smart and highly integrated solutions for industrial automation and energy management applications at the world's largest industrial fair, Hannover Messe 2015, in Germany from April 13th to 17th. Existing and potential customers have shown particular interest in Delta's SCARA robot arm solution which is capable of improving daily productivity by up to three times, and in Delta's battery energy storage system Flex E3 which features smart-grid capabilities for optimal-cost energy storage and consumption. In the first three days of the show, more than 300 business leads have been collected by Delta's sales team.
On April 14th, Delta held a press conference for more than 50 journalists from more than 10 countries. During the press conference chairman Yancey Hai highlighted Delta's contribution for a better tomorrow as the company's energy-efficient products and solutions have enabled energy savings of 14.8 billion kWh and a reduction in carbon emissions of 7.9 million tons for our customers worldwide. Delta's president and general manager for the EMEA region, Jackie Chang, introduced Delta's expertise in integrating a broad spectrum of solutions that truly enhance the competitiveness of its customers throughout the EMEA region. Other members of Delta's top management attending the press conference were James Ng, chairman of Delta Thailand and Delta India; Mark Ko, vice Chairman of Delta Electronics; Ping Cheng, CEO of Delta Electronics; Dalip Sharma, Managing Director of Delta India; Shan-Shan Guo, Chief Brand Officer of Delta Electronics; and Jesse Chou, assistant vice president of corporate communications.
Highlights of Delta's showcase for Hannover Messe 2015 include:
Industrial Automation Solutions for industrial facilities and processes that aim to achieve high levels of integration, productivity and energy efficiency through the "smart manufacturing" concept, which include: A newly-launched programmable automation control (PAC) motion control solution, which is ideal for complex industrial processes such as plasma cutting, glass cutting, and laser engraving. A Hybrid Energy-saving System (HES) for injection molding machinery that precisely controls flow and pressure to improve product duplication accuracy with excellent energy savings. Production automation solutions for beverage lines and food packaging that integrate Delta's machine vision system DMV Series for rapid detection or package defects confirmation. Delta's high performance mid-range programmable logic controller (PLC) AH500 Series offers a multi-axis control system with simple architecture, and high-extension possibilities to large-scale system and machines with a maximum distance of 100m by cable or 2km by optical fiber between local expansion racks. Delta's energy saving crane and elevator solution implements the energy regenerative unit REG2000 series to efficiently convert regenerative energy into reusable electricity helping a crane system save over 30% energy, and the elevator save as high as more than 50%.
Visitors can experience live demos of Delta's new SCARA DRS40L Series solution, a robot arm system that improves daily productivity by up to three times for certain industrial applications, such as processes for insertion, screw locking, assembly, gluing, soldering, transporting and packaging for the consumer electronics, electrical/electronics, rubber and plastic, packaging, and metal fabrication industries (available in Taiwan/China in 2015).
Delta's battery energy storage system Flex E3, which offers a smart-grid controller platform for optimal-cost energy storage and consumption and storage capacity from 2.9 kWh to 3.7 kWh or with three systems in parallel offering up to 11.0 kWh. This is an essential pillar of smart-grid-capable platforms for medium and small power installations in homes and small businesses as it is equipped with an intelligent controller that enables smart and constant interaction between renewable energy systems, the electricity grid, and its embedded battery infrastructure. Delta is showing the Flex E3 integrated with PV inverters, the AC Mini electric vehicle charging station and energy-efficient LED street lighting, all developed by Delta.
Delta's iPEMS (Intelligent Process and Management System) integrates various IoT technologies and DVCS (Distributive Vision Control System) to provide a unique solution for Big Data visualization for a broad range of industrial applications, such as in energy production and management, intelligent factory supervision, petrochemical plants, wireless communications and more. iPEMS is capable of capturing real-time data, big data storage and cloud computing for millions of physical and virtual entities. The combination of vector-based SCADA and multi-resolution displays helps to enhance operational and management efficiency.
Telecom Network Energy Solutions offer diversified hybrid energy sources (traditional, battery storage and renewable) and a selected combination of state-of-the-art technologies developed by Delta such as rectifiers with industry-leading energy efficiency of up to 97.5%, advanced PLC controllers, DC-converters, power distribution units and power cabinets OutD Series. The Delta Orion PLC Controller allows comprehensive remote monitoring and control of the system, including detailed component operations, active alarm systems and energy logs, thus, increasing the productivity of site maintenance processes.
InfraSuite Datacenter Infrastructure Solutions is an optimal option for IT managers that strive to implement green datacenters. InfraSuite offers a highly integrated, adaptable, and modular architecture capable of realizing up to 25% energy savings, and allows pay-as-you-go expansion, smooth operation and easy management. These benefits, added to the intelligent real-time monitoring and remote control of data center facilities, are achievable through the InfraSuite Manager (EMS3000) software system, which underscore Delta's position as a leading provider of smart, highly integrated, and eco-friendly solutions.