Delta Demonstrates Modular Datacenter Solutions at the "Hausmesse" of Sapotec 2015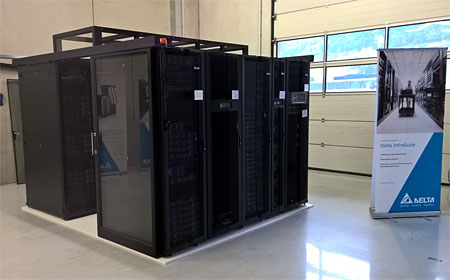 Austria, October 01, 2015 - Delta Electronics, the world-leading energy-saving solutions provider, has joined the "Hausmesse" from Sapotec, one of the most important partners of Delta's Mission Critical Infrastructure Solutions (MCIS) business unit in Austria, to display its innovative IT power management and datacenter solutions simultaneously. InfraSuite is a total solution for enterprises that seek to optimize their datacenters' power usage effectiveness (PUE) while saving approximately 25% in operating costs through higher scalability, reliability, energy efficiency, and manageability to protect the data that matters.
Fully understanding IT managers' needs in this era of Big Data with the challenges of data growth and the scalability of datacenter infrastructure, Delta is showcasing InfraSuite, its fully integrated and scalable datacenter architecture and smart environmental management InfraSuite Manager (EMS3000) with real-time monitoring and remote control functions. Featuring "Smarter Modular Datacenter Solutions" Delta InfraSuite presents the following core benefits:
---
About Delta Group
Delta, founded in 1971, is the global leader in power and thermal management solutions. Our mission statement, "To provide innovative, clean and energy-efficient solutions for a better tomorrow," focuses our role in addressing key environmental issues such as global climate change. As an energy-saving solutions provider, Delta's businesses encompass power electronics, energy management, and smart green life. Delta has sales offices worldwide, with R&D centers and manufacturing facilities in Taiwan, China, USA, Europe, Thailand, Japan, Singapore, India, Mexico, and Brazil.
Throughout its history, Delta has received many global awards and recognition for its business milestones, innovative technology and corporate social responsibility. Since 2011, Delta has been selected as a member of the prestigious Dow Jones Sustainability™ World Index (DJSI World) for three consecutive years. In 2013 it was also included in the DJSI Emerging Markets Index and ranked first in six criteria among DJSI's World-leading Electronic Equipment, Instrument and Component Companies segment.
For detailed information on Delta, please visit: www.deltaww.com .
About Delta UPS and MCIS BU
Delta's Mission Critical Infrastructure Solutions (MCIS) business unit (BU) has developed a variety of UPS solutions. Positioned as "The power behind competitiveness," the MCIS strives to play an important role in making our customers' businesses and operations more competitive. Our mission is realized by providing highly reliable and efficient power management products, including UPS and datacenter infrastructure solutions that ensure the continuity of mission critical operations and better total cost of ownership (TCO). Delta offers 4 UPS product families.
Product Family

Power

Topology

Applications

Agilon

Up to 600VA

Single-Phase UPS

Personal computers and peripherals

Amplon

Up to 12kVA

Single-Phase UPS

Servers and networking equipment

Ultron

Up to 4000kVA

Three-Phase
On-Line UPS

Data centers and industrial facilities

Modulon

Up to 480kVA

Modular UPS

Offering scalability and redundancy in a single frame
Media Contact:
Andreas Schmidt
Delta Electronics EMEA
Telephone: +49 07641455252
Email: andreas.schmidt@delta-es.com

Yalin Tsai
Delta Electronics EMEA
Telephone: +31 206550956
Email: yalin.tsai@delta-europe.com