2017.05.26
Delta displays innovative power solutions of the future at GREENPOWER tradeshow in Poznan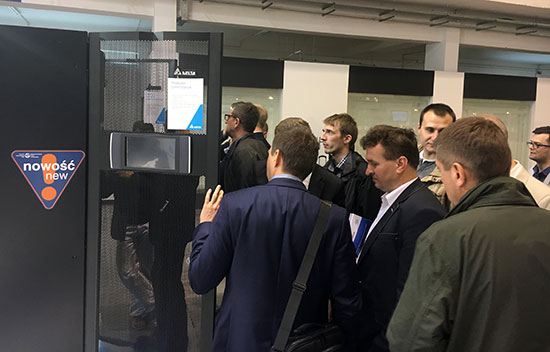 The GREENPOWER tradeshow in Poznań is the largest of its type in Poland. Every year, the convention center of this major city and key business center turns its attention to alternative energy. Visitors from the ranks of business, public administration, and the investment community are able to gather information on market trends, challenges, and practical solutions. Topics include the generation of power from wind, hydroelectric, solar, geothermal, and biomass sources. As one of the world's leading companies for green IT, Delta was in Poznań from May 23 – 25, 2017 as an exhibitor.
Delta focused on three issues at its exhibition stand:
Solutions for solar energy
Charging stations for electric vehicles
Uninterruptible power supplies are some of the most important components in datacenters. Other fields such as transportation monitoring, production environments, and medical technology also use UPS systems. Just like servers, storage devices, cooling systems, and other components, UPS systems have to operate efficiently and help conserve energy while reducing energy costs.
The main focus of Delta's exhibition was the modular UPS DPH 500, the flagship of the Modulon DPH series. This high-performance UPS offers an outstanding 500 kVA power rating. This high performance density is a result of high-power 55 kVA modules. The AC-DC-AC conversion achieves efficiencies of as much as 96.5% during normal operation and up to 99% in Eco mode.
The modular design results in compact dimensions, which is why this high-performance UPS can also be used in environments with limited space available. Hot-swappable modules allow for simple and easy scalability under load as requirements dictate. All key components are redundant and protected against failure. Intelligent monitoring of the batteries and continuous diagnostics are additional protective measures that ensure stable and reliable operations. Using standard interfaces, the DPH 500 can be seamlessly integrated into a wide range of environments. Monitoring and administration can be conducted using a number of different management systems.
Bright prospects for solar energy
Solar energy is one of the most popular alternative energy sources. Solar photovoltaic systems are commonly found on both residential and commercial properties. At GREENPOWER in Poznań, Delta presented its solar inverters for use in commercial environments. The highlight here was the high-performance RPI M88H inverter. This 88 kVA (output) transformer-less model achieves an efficiency of 98.8% and is thus particularly suitable for commercial applications. The M88H inverter is optionally available with a separate cable box with built-in type 2 AC and DC SPDs. Thanks to the unit's low weight, the inverter is easy to transport and simple to install.
Electric charging stations for EVs
Delta's Ultra Fast Charger received considerable interest from visitors at the trade fair. With a Tesla and a BMW EV at its exhibition booth, Delta demonstrated how this type of electric refueling station works in practice.
The charging station boasts an output of 150 kW and can charge up to four vehicles simultaneously. The system is based on common standards, has a modular architecture, and can be expanded as required. This means operators and investors are on the safe side, since the station will also be able to charge the next generation of electric vehicles. The charging station can be integrated into existing environments using a wired Ethernet connection or 3G and GPRS. Due to its scalability and compatibility with future technologies, the operating costs for the charging station remain low. That makes Delta's Ultra Fast Charger an interesting and economical long-term alternative to the solutions currently on the market. It allows operators to continue expanding their EV charging station networks at an affordable price.