2017.10.06
Delta launches InfraSuite Device Master, a powerful facility management solution available as a free download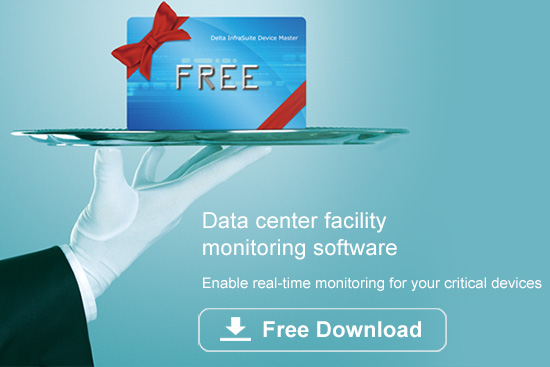 A powerful tool for simple, automated monitoring of mission-critical facility infrastructure in datacenters
Delta, a global leader in power and thermal management solutions, today announced its InfraSuite Device Master, a powerful facility management solution available as a free download. This new software gives datacenter operators and facility managers a command center for real-time management and monitoring of critical datacenter equipment such as uninterruptible power system(UPS), cooling, and environment control systems.
Dr. Charles Tsai, General Manager of Delta's Mission Critical Infrastructure Solutions Business Unit, said, "The InfraSuite Device Master is our free yet powerful entry-level solution for datacenter and facility management projects that demand uncompromising professional monitoring of business-critical devices. It is an ideal solution because it lets operators migrate as needed from simple device monitoring to a complete datacenter infrastructure management solution at any time."
InfraSuite Device Master is available immediately as a free download on the Delta website. It provides status alerts, event logs, and historical data for the entire facility infrastructure, all from a convenient monitoring screen. This functionality can be used to manage infrastructure at a single facility or multiple remote locations spanning different countries. InfraSuite Device Master employs role-based user management to assign privileges. The software sends automated, personalized alerts via email, text message, or audio message.
The new software is free for up to five devices. InfraSuite Device Master is included with Delta UPS systems and is appropriate for small datacenters as well as centralized control and monitoring solutions. InfraSuite Device Master is easy to deploy and, in addition to real-time monitoring, also provides event histories for all monitored devices at the site. Furthermore, migrating from InfraSuite Device Master to Delta's InfraSuite Manager (fully featured DCIM solution) is easy, should a comprehensive DCIM solution ever be required.
The following are the main highlights of the InfraSuite Device Master:
Free download
Easy deployment
Real-time monitoring
Broad protocol support including Modbus, SNMP, and OPC
Proactive, automated alerts via email, SMS, or audio message
Comprehensive user access control based on groups and privileges
Powerful event management including predefined event levels and extensive query options
Comprehensive database of historical event data for subsequent evaluation and analysis
| | |
| --- | --- |
| | |
|  ▲ Navigational Graphics |  ▲ Event Log List |
InfraSuite Device Master is available immediately. The download is available at here.