2017.06.08
Together with new partner Rubicon, Delta debuts UPS family at South Africa's leading automation trade show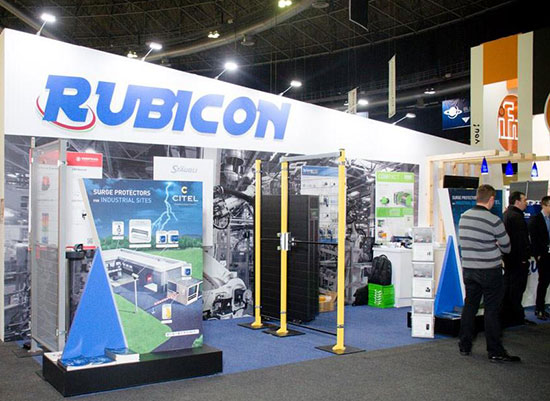 From June 6 – 8, 2017, the Africa Automation Fair (AAF) took place in Johannesburg's Ticketpro Dome. Delta was present at this important African automation convention and trade fair. This year was the first time Delta exhibited together with its new partner, Rubicon SA.
The AAF seeks to make a contribution towards digital transformation in the region. That's why it has made Industry 4.0 and IIoT its rallying cries for 2017. At AAF 2017, numerous exhibitors are presenting intelligent solutions that South African companies will be able to benefit from over the medium and long terms.
Reliable partners with extensive specialized knowledge
For Delta, participation in the South African Congress and trade fair was a first in two respects: The company presented the three-phase Ultron 60 kW from its innovative HPH UPS line for the first time there. Additionally, Delta announced in Johannesburg its collaboration with new partner Rubicon Electrical and Automation from South Africa. "The cooperation with Rubicon is very significant for Delta," said Ross Peringuey, a regional sales manager at Delta. "We have a lot in common and Rubicon's portfolio is a perfect complement to our sustainable industrial solutions for efficient power."
Rubicon Electrical and Automation specializes in solutions for a number of different industry segments. The South African company's portfolio includes products for automation, electronic solutions and components, and renewable technologies. Rubicon distributes industrial components from leading international manufacturers in South Africa. As a member of Electrobase, an association of independent vendors of electronic solutions, the company also represents South African manufacturers. Customers of Rubicon include renowned corporations such as BMW, Volkswagen, Parmalat, Kraft Foods, and Heineken.
"Rubicon's energetic team is a perfect match for the Delta Group and our business philosophy," said Ross Peringuey. "Just like at Delta, high-quality products, sustainability, and excellent customer service are high priorities for Rubicon. Thanks to our co-operation, we will be able to take advantage of synergies that will result in major benefits for customers in South Africa."
Focusing on power supply performance and energy efficiency
At their impressive joint exhibition stand E1-E3 at AAF 2017, the two partners presented solutions for cost-efficient protection of complex environments and modern datacenter power supply technologies.
The three-phase Ultron HPH 60 kW, which saw its South African debut at the event, attracted great interest from visitors. "A stable and reliable power supply is essential for automated industrial equipment," said Peringuey. "Especially for smaller and medium-sized data centers, the efficiency of the power supply also plays a major role."
The three-phase UPS from the Ultron HPH series is characterized by high power density and energy efficiency. Even in extreme environments, high availability is assured. This means that the power supplied to numerous environments and components remains ideal even in difficult operating conditions. Integrated analytics allows operators to optimize fault management and simplify maintenance. Two additional factors that speak in favor of this line of products are the attractive price-performance ratio and the low total cost of ownership.
Delta's Ultron HPH 60kW UPS is compatible with a number of standardized interfaces. That allows it to be easily integrated into a number of different production and IT environments. A high-performance UPS, it is suited for use not only in data centers, but in production environments, computer networks, and for medical technologies as well. The three-phase Ultron HPH 60 kW delivers high availability and therefore offers excellent protection in regions where power grids are not always state-of-the-art.
Reflecting on the event, the largest African tradeshow for automation, Ross Peringuey said, "The power range of the Ultron HPH 60 kW impressed customers at AAF 2017." "Together with our new partner Rubicon, we were able to have numerous constructive conversations and generate interesting leads in new verticals."