Delta's Active Power Filter supports the operation of CNPC Baoji Petroleum Steel Pipe Co.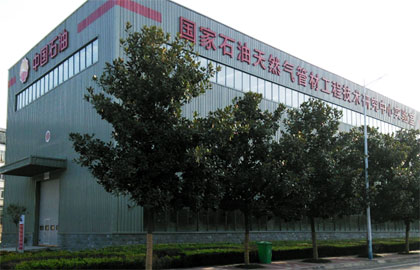 Industry background
A foundry factory needs metal processing techniques, which control metal properties by changing the surface or internal metallurgical structure of metals through heating, warming, and cooling in a certain medium.
There are resistance furnaces, heat treatment furnaces, and induction melting furnaces in foundry factories. For the cooling process, the cooling and running water pipelines need VFD pumps and electrical equipment. Besides producing high volumes of harmonics, as nonlinear equipment they will cause grid current imbalance and severe damage to power quality. As a result, the testing and controlling equipment and precision instruments connected to the same busbar are affected. Heavy loads can affect distribution safety significantly.
Customer
CNPC Baoji Petroleum Steel Pipe Co., Ltd, manufactures steel petroleum pipelines for CNP, China's largest oil and gas producer and supplier.
Power quality problem description
After loading part of the equipment, when distribution capacity is filled, load is ineffective, and the efficiency of power supply equipment is very low.
Brand new capacitor banks (1.1MVar) trip immediately after switching on and are unable to be used in the system.
The pipe heat treating device cannot reach expected performance, and the speed of heating is only 50% of expected performance.
Power quality sensitive measurement and controlling devices are often damaged due to unknown causes, which is likely from harmonics.
Strong vibrations with noise occur from the distribution transformer and feeding busbar, presenting a high risk to power supply safety.
Cause analysis
Under the same 2.5MVA transformer busbar, harmonics of the resistance furnace (3-phase, half-bridge, controllable thyristor rectifier, with triangle wave due to even harmonics of the 2nd and 4th orders) are up 150%, the imbalance degree between the two soft heat treatment currents (3 phase imbalance) is 100%; VFD pump current distortion is very high (typical 6-pulse wave); and average THDu and average THDi both exceed international standards.
Solution
As such unfavorable power conditions endanger the normal and safe operation of the center, so power quality control is necessary. A load terminal control solution was applied to the major harmonic load as shown below. At the same time, two sets of Delta PQCA-400-75-375C4 were installed on the heat treating furnace to control current imbalance and harmonics. Two sets of Delta PQCA-380-75-300C4 were installed on the resistance furnace to compensate for odd harmonics (2nd and 4th orders). One set of Delta PQCA-380-75-375C4 was implemented on the VFD pump, and two slots are reserved for expansion.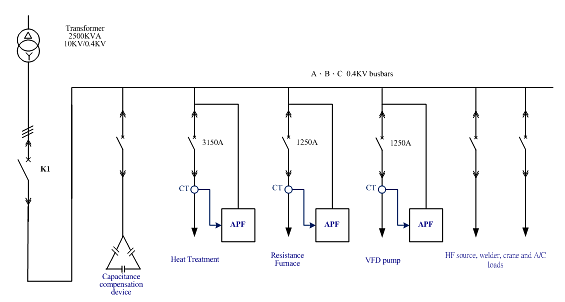 Effectiveness
The effectiveness of the Delta PQC series active power filer (APF) is significant, as shown in the data below: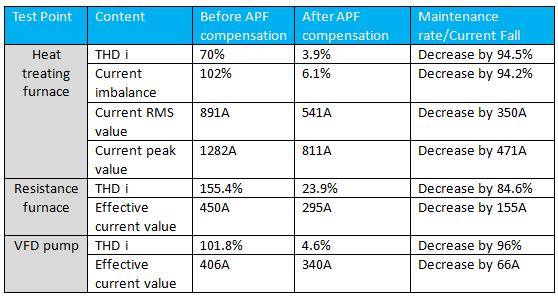 The measured data before and after PQC implementation is as follows: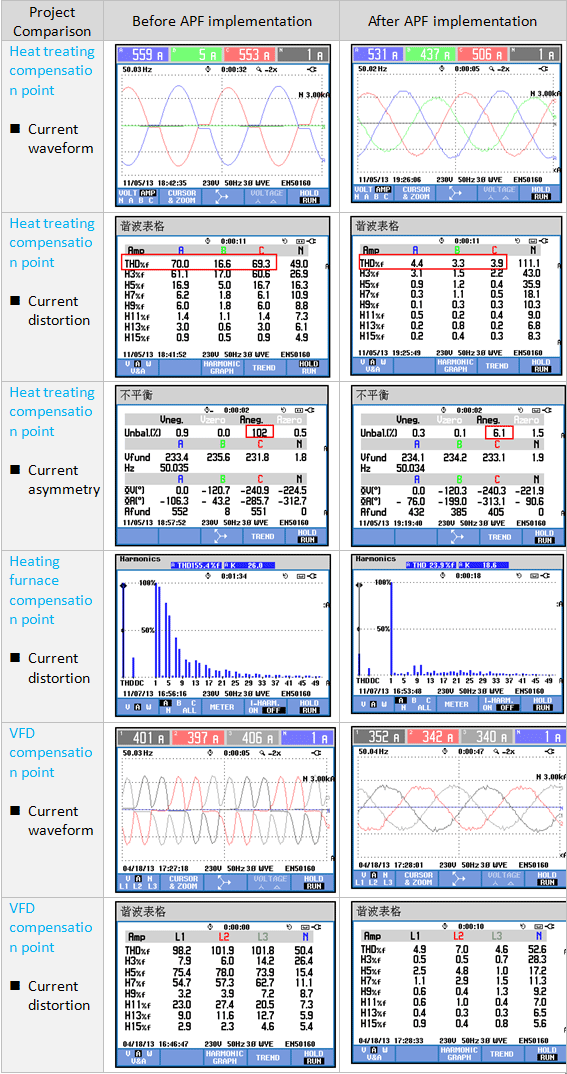 Conclusions
Delta PQC series APF provides a total solution bringing added value for customer power quality problems and winning the recognition of numerous clients in the foundry industry. The value brought to customers includes:
Harmonic contents comply with the GB/T14549-93 standard after compensation.
Apparent current reduced by about 600A, distribution efficiency enhanced, in-load capacity exceeds design requirements, and to certain degree energy saving was achieved.
The capacitor banks work normally and the reactive penalty problem of the power department was solved.
Heating speed of furnace increased from 4°C/second to 8°C/second.
Stable operation of long-term monitoring and collaboration equipment to ensure safety.
Vibration and noise of the distribution transformer and feeding busbar are basically eliminated to enhance distribution stability.
Site deployment
Heat treating equipment, resistance furnace, Delta APF, and pipe treatment pictures taken on-site.