Delta's Active Power Filter successfully installed in the world's largest chemical fiber producer and textile enterprise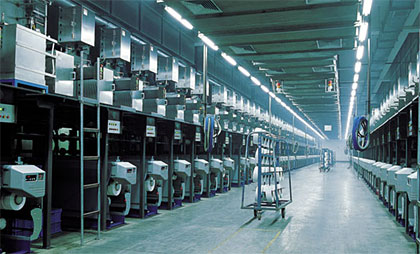 Industry background
Major processes in chemical fiber production include polymerization, filament drawing, cooling, and wastewater treatment. A VFD winding machine is the major type of electrical equipment used for filament drawing. In polymerization, TPA after mixing, heating, and reacting is transferred to the filament workshop through channels. The mixer, centrifuge (VFD), and filter tower are the main types of electrical equipment used in polymerization. There are also HTM furnaces and recycled water treatment processes that need VFDs for pumps.
The harmonic content varies from VFD to VFD and from model to model. In filament drawing and wastewater treatment, the total harmonic distortion (THD) of transformers is severe, usually over 25%.
Customer
Hengli Group (World's largest chemical fiber producer and textile enterprise)
Power quality problem descriptions
The Hengli Group is the world's largest chemical fiber producer and textile enterprise. Power factor drops in some of the group's power distribution rooms due to blown or damaged capacitor banks are very common. Production losses are caused from overheated transformers which produce loud noise, a high failure rate of related electrical equipment, and abnormally trip breakers.
Cause analysis
Numerous VFDs generate massive harmonic content of the 5th, 7th, 11th, and 13th orders in the current, which causes voltage distortion when flowing through the grid system impedance. Voltage distortion exceeds international standards, damages other electrical devices, and causes resonance with system impedance and capacitor banks, thus damaging capacitors and jeopardizing the grid.
Solution
By referring to onsite conditions and a pilot test and assessment, a Delta PQC series APF with model name of PQCA-400-75-375C4 was thus installed at the secondary side of each of all the 32 distribution transformers in the new factory. The single transformer solution is illustrated below: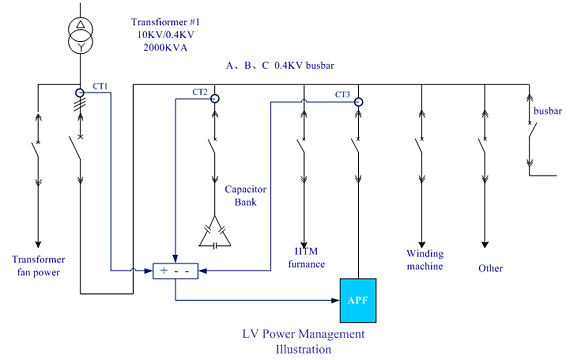 Effectiveness
The effectiveness of the PQC active power filer is significant, as shown in the data below:

Current waveform and THD before and after PQC application are shown below: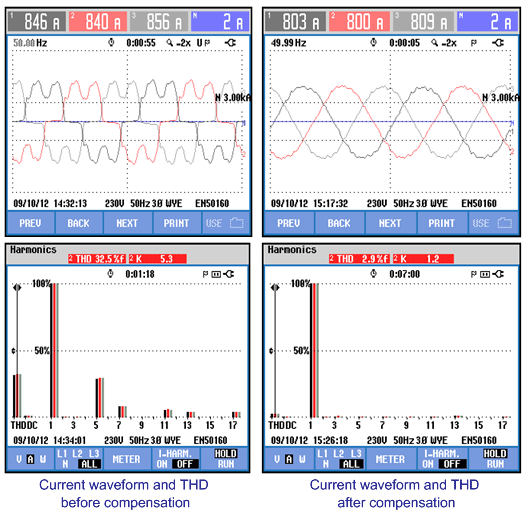 Project conclusions
Delta's PQC series APF demonstrates excellent power quality management performance for the chemical fiber industry. It significantly enhances distribution system stability, reduces equipment failure rate, fully releases the distribution margin, enhances production capacity, and saves energy at a specific level. It achieves outstanding direct and indirect positive economic value over the long run.
Deployment site