2012.09.24
Delta Introduces Amplon M Series UPS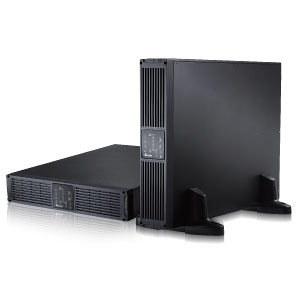 Reliable Power Protection for Small and Medium Businesses
Delta, the world's leading provider of switching power supplies and DC brushless fans, as well as a major energy saving solutions provider in many fields, today announced the introduction of new Amplon M Series uninterruptible power supply (UPS) to Europe and Russia by its MCIS (Mission Critical Infrastructure Solutions), a business unit of Delta. The Amplon M Series, with power ratings of 1kVA, 1.5kVA, 2kVA and 3kVA, is a line-interactive UPS providing sine-wave quality ideally suited for multiple applications such as servers, networking, VoIP and telecommunications in small and medium businesses. The Amplon M features high availability, flexibility and excellent power performance to fully meet customers' requirements at a low Total Cost of Ownership (TCO).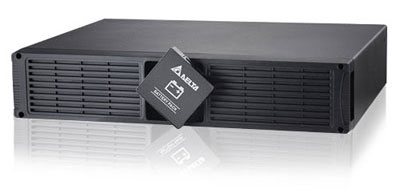 ■ The Amplon M Series is a new Delta line-interactive UPS
   with high availability, flexibility and excellent power
   performance ideally suited for small and medium businesses.
As a line-interactive UPS, the Amplon M is equipped with an automatic voltage regulator (AVR) which delivers stable voltage while providing higher availability. "As uptime is critical for IT applications, 'high availability' is undoubtedly a customer's top demand for UPSs," said Dr. Charles Tsai, general manager of Delta MCIS. "The Amplon M is designed to provide a wide input voltage range and superior battery functions to support customer requirements for high availability."
Not only providing high availability, the Amplon M also offers high flexibility with its 2U size rack/tower convertible cabinet design to fulfill customers' different configuration needs. For scalable battery runtime, an optional external battery cabinet is available for the 3kVA model.
While achieving high availability and flexibility, the Amplon M does not compromise power performance. The high output power factor 0.9 and AC-AC efficiency up to 97% delivers significant operating cost savings for customers.
Dr. Tsai stated, "The Amplon M is an absolutely reliable power protection solution for small and medium businesses that will provide the backbone for business operations continuity. We are proud to launch this new product with its high availability, flexibility and excellent power performance. Delta MCIS continues to engineer new UPS development to provide a full range of UPS offerings that fulfill a wide range of customer requirements."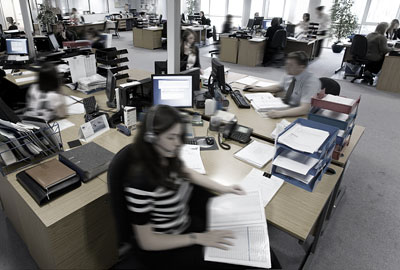 ■ The Amplon M is a reliable power protection solution for small and
   medium businesses that provides the backbone for business operations
   continuity.
More M Series introduction, please click here.
---
About Delta Group
Delta Group, founded in 1971, is the global leader in power and thermal management solutions. Our mission statement, "To provide innovative, clean and energy-efficient solutions for a better tomorrow," focuses our role in addressing key environmental issues such as global climate change. As an energy-saving solutions provider, Delta's businesses encompass power electronics, energy management, and smart green life. Delta has sales offices worldwide and manufacturing facilities in Taiwan, China, USA, Europe, Thailand, Japan, India, Mexico, and Brazil.
In 2011 Delta was named to two Dow Jones Sustainability Indexes (DJSI): the DJSI World Index and the DJSI Asia/Pacific Index. Delta was also recognized as a Sustainable Asset Management (SAM) "Gold Class Company" and "Sector Mover" in the 2012 Sustainability Yearbook of SAM.
For more information about Delta Group, please visit: www.deltaww.com
About Delta UPS and MCIS BU
Delta's Mission Critical Infrastructure Solutions (MCIS) business unit (BU) has developed a variety of UPS solutions. Positioned as "The power behind competitiveness," the MCIS strives to play an important role in making our customers' businesses and operations more competitive. Our mission is realized by providing highly reliable and efficient power management products, including UPS and datacenter infrastructure solutions that ensure the continuity of mission critical operations and better total cost of ownership (TCO). Delta offers 4 UPS product families.
| | | | |
| --- | --- | --- | --- |
| | Power | Topology | Applications |
| Agilon | Under 1kVA | Single-Phase UPS | PC and Peripherals |
| Amplon | 1kVA or higher | Single-Phase UPS | Server and Network Equipment |
| Ultron | 15kVA or higher | Three-Phase On-line UPS | Datacenter and Industrial Equipment |
| Modulon | 20kVA or higher | Modular UPS | Modular. Unit expansion and redundant power supply can be achieved within a single rack |
More information about Delta MCIS products can be found at www.deltapowersolutions.com.