2012.09.26
Delta Named as Taiwan Top 20 Global Brands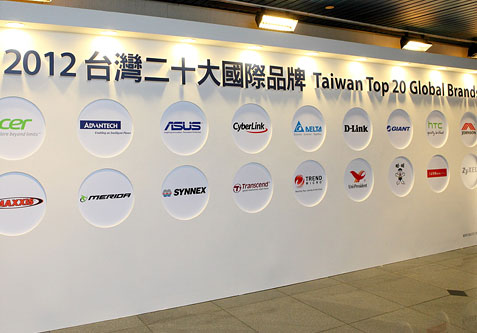 A First for the Power Electronics and Energy-related Industry
A shortlist of the top 20 brand s for the 2011 Taiwan Global Brand Value Survey was announced today. The survey is organized annually by the Taiwan External Trade Development Council (TAITRA) and co-organized by BusinessNext and the international brand consultants Interbrand. It is supported by the Ministry of Economic Affairs and sponsored by the Bureau of Foreign Trade, Ministry of Economic Affairs. In being named as Taiwan Top 20 Global Brands, Delta Electronics became the first brand from the power electronics and energy-related industries to receive this honor.
Delta Vice Chairman and CEO Yancey Hai said, "For the past 40 years, Delta has embraced the mission of "To provide innovative, clean and energy-efficient solutions for a better tomorrow". We have leveraged our accumulated expertise in power management to support innovative developments in power electronics, energy management and smart green life around the world. From parts to systems and solutions, Delta has continued to build our brand through the development of renewable energy, industrial automation, video display systems, LED lighting, and electric vehicle control systems to take advantage of trends in the global green energy industry. Being named for the first time as one of the Taiwan Top 20 Global Brands this year shows that the Taiwanese green energy industry continues to grow in size and that Delta's developments in the green energy industry are playing an increasingly important role in overall economic development."
Delta Chief Executive Officer Ping Cheng said, "This is the first time that Delta was invited to take part in the Taiwan Global Brand Survey. I am very happy to see recognition of Delta's efforts in developing our own brand in a brand valuation system based on international standards. It is an honor to be named as one of the Top 20 Taiwanese International Brands. Delta launched a brand inauguration in 2010 in a bid to boost the global profile and image of the Delta brand through strategic communications so more customers will specify Delta products and services during purchasing. From components to systems and solutions, from Delta Inside to Delta Outside, we have continued to increase the proportion of systems and solutions in our business activities. In 2011, Delta launched a worldwide market research, redefined our brand communication framework and introduced a new corporate identity system. The consolidation and standardization of our external communications will strengthen the Delta brand."
Now in its ninth year, the Top Taiwan Global Brands Valuation is targeted at internationalized Taiwanese brands. The brand valuation system used in the survey is the same as the one used for the US Business Week magazine's annual 100 Best Global Brands survey. The system is based on the professional valuation procedure developed by the well-known brand consultants Interbrand. Quantitative analysis of corporate finances together with qualitative analysis of brand role and strength are combined to derive a concrete brand value for world-class Taiwanese brands and indicate their relative global competitiveness.