2013.04.03
Delta Group Introduces New UPS Series for Mission Critical Applications at Hannover Messe 2013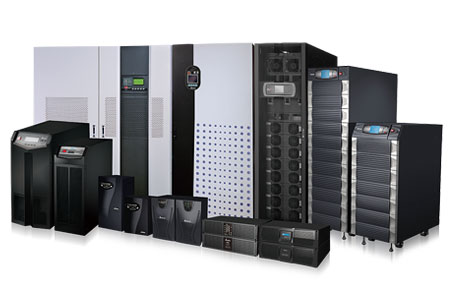 Amsterdam, Apr. 3, 2013 - Delta Group, a global leader in power and thermal management solutions, is introducing three brand new UPS (Uninterruptible Power Supply) series—the
Ultron HPH
,
Ultron DPS
, and
Modulon DPH
—for mission critical applications, at the upcoming Hannover Messe 2013 in the Delta booth (
Stand A49, Hall 11
). Ranging from 20 kVA to 200 kVA, the three highly reliable and efficient UPS solutions Delta is demonstrating this year come in two different types: a mid-power rated monoblock UPS and a modular UPS, both ideal for critical applications such as manufacturing and mid-sized datacenters. All are equipped with industry-leading power performance and fail-safe design to ensure the best investment in power protection to keep operations running non-stop.
"We are proud to introduce the leading technology and efficiency of our latest series of UPSs at the Hannover Messe 2013 and to announce that our Ultron HPH and Modulon DPH are the best-in-class for their kind in the industry in terms of power performance, power density and fail-safe and fault-tolerant designs. In addition for product development we also provide a site-survey, a load study and a complete range of management accessories and software as a bundled solution for our customers." said Dr. Charles Tsai, general manager of the Mission Critical Infrastructure Solutions (MCIS) business unit at Delta Electronics.
With a unity power factor (kVA=kW) and industry leading AC-AC power efficiency up to 96% (up to 99% efficiency in ECO mode), the Ultron HPH Series UPS ranging from 20 to 40kVA is the best business investment for continuous operations of mission critical applications. It provides maximum power capacity to the load and offers best power protection for continuous operations of mission critical applications. The Modulon DPH Series UPS, scaling from 25kW up to 200kW in a standard 19" rack enclosure and full-fault tolerant design to provide ultimate availability, is an ideal option for medium-sized datacenters. Both series provide high operating efficiency of up to 95% at 30% light load and up to 96% at 50% load resulting in marked energy cost savings.
The Ultron DPS 60-120 kVA UPS is an especially eco-friendly and space-saving UPS with a compact footprint and transformer-less design that fulfills client requirements for mid power ratings. The Delta Ultron DPS series 160 ~ 400kVA has been very well-received by customers, including the leading fixed-line operator in Poland, a leading broadband and telecommunications provider in Spain, various major medical centers in Russia and much more. Delta has extended its power rating to cover 60 ~ 120kVA so the series now ranges from 60 ~ 400kVA to serve more customers.
Ultron HPH Series UPS 
Fully rated power (power factor=1, kVA=kW) provides maximum power capacity to the load
Leading power efficiency of up to 96% (up to 99% efficiency in ECO mode) saves energy costs
Low harmonic pollution (iTHD < 3%) reduces upstream investment costs
DSP based technology enables reduction in the number of electronic components to lower failure rate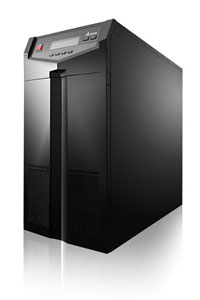 Ultron DPS 60-120 kVA UPS
High input power factor (> 0.99) and low input harmonic distortion (iTHD < 3%) save upstream investment
N+X redundancy or hot-standby configuration increases system reliability
Comprehensive battery management sustains battery lifetime and optimal operation
Compact footprint with transformer-less design ensures maximized investment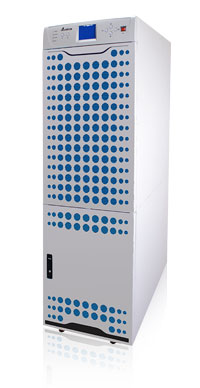 Modulon DPH Series UPS  (product introduction)
Advanced fault tolerance design achieved by self redundancy guarantees operation continuity
Hot-swappable key modules and components ensure Mean Time To Repair (MTTR) close to zero without downtime risk
Full rated power (kVA=kW) maximizes power availability
High operating efficiency of 95% at 30% light load and 96% at 50% load for marked energy cost savings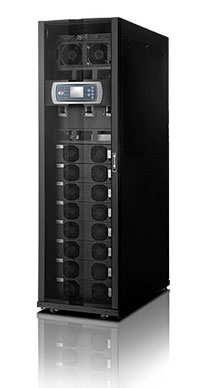 More information about Delta MCIS products can be found at: www.deltapowersolutions.com
---
About Delta Group
Delta Group, founded in 1971, is the global leader in power and thermal management solutions. Delta has sales offices worldwide and manufacturing facilities in Taiwan, China, USA, Europe, Thailand, Japan, India, Mexico, and Brazil.
Our mission statement, "To provide innovative, clean and energy-efficient solutions for a better tomorrow," focuses our role in addressing key environmental issues such as global climate change. As an energy-saving solutions provider, Delta's businesses encompass power electronics, energy management, and smart green life. Delta actively promotes its own corporate brand and its brand spirit "Smarter. Greener. Together." represents high-efficiency energy-saving solutions.
Delta is widely recognized for its dedication to corporate social responsibility. In 2012 Delta was selected for two of the prestigious Dow Jones Sustainability Indexes—the DJSI World Index and the DJSI Asia/ Pacific Index—for the 2nd consecutive year. Delta was also ranked first among the 29 leading companies in the ITC Electronic Equipment sector and named as "Sector Leader" for the first time, which is major international recognition for Delta's continued commitment to corporate social responsibility and sustainability.
For more information about Delta Group, please visit: www.deltaww.com
About Delta UPS and MCIS BU
Delta's Mission Critical Infrastructure Solutions (MCIS) business unit (BU) has developed a variety of UPS solutions. Positioned as "The power behind competitiveness," the MCIS strives to play an important role in making our customers' businesses and operations more competitive. Our mission is realized by providing highly reliable and efficient power management products, including UPS and datacenter infrastructure solutions that ensure the continuity of mission critical operations and better total cost of ownership (TCO). Delta offers 4 UPS product families.
| | | | |
| --- | --- | --- | --- |
| | Power | Topology | Applications |
| Agilon | Under 1kVA | Single-Phase UPS | PC and Peripherals |
| Amplon | 1kVA or higher | Single-Phase UPS | Server and Network Equipment |
| Ultron | 15kVA or higher | Three-Phase On-line UPS | Datacenter and Industrial Equipment |
| Modulon | 20kVA or higher | Modular UPS | Modular. Unit expansion and redundant power supply can be achieved within a single rack |
More information about Delta MCIS products can be found at www.deltapowersolutions.com.