2013.10.18
Delta's Founder Bruce Cheng Wins the "2013 Green Design International Contribution Award"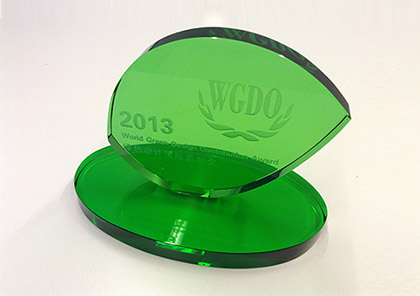 On October 18, 2013, Mr. Bruce Cheng, Delta's founder and honorary chairman, became the sole Taiwanese businessman to win the "2013 Green Design International Contribution Award". The award was presented by the World Green Design Organization (WGDO) during the 2013 World Green Design Forum–Brussels Summit held at the European Parliament Building.
Delta Europe's Chairman Mr. Hsien-Yuan Chen received the award on behalf of Mr. Bruce Cheng and emphasized, "Delta's mission is to provide innovative, clean and energy-efficient solutions for a better tomorrow. We are honored to have such a prestigious organization recognize our long-term commitment to investing significant R&D resources in the development of sustainable design and energy efficiency.
The Delta Group, founded by Mr. Bruce Cheng, invests more than 5%~6% of its annual revenues in the research & development of innovative green technologies every year. Products manufactured by Delta from 2010 until 2012 help its customers save up to 9.3 billion of kWh in energy consumption, reducing approximately 5.0 million tons of CO2. In addition, Mr. Cheng's deep concerns regarding global warming encouraged the creation of the Delta Foundation, which is engaged in the support of sustainable technologies research, the enhancement of energy efficiency, and superior education institutions. In recent years, Delta Group has increased its efforts in green architecture and sustainability in the transport industry, while also encouraging households to improve their energy consumption behavior.
The "Green Design International Contribution Award" is an international and objective award created by the World Green Design Forum that recognizes the achievements of professional individuals and teams in the development of sustainable technologies, such as materials, energy sources, infrastructure and solutions capable of improving the environment and ensuring mankind's survival.
The WGDO was officially established during the 2013 Brussels Summit as the first NGO engaged in the promotion of green design development. The World Green Design Forum is the first worldwide dialogue platform that focuses on global sustainability from the perspective of green design and it is initiated by the Dragon Design Foundation, the International Design Federation, the EU-China Friendship Association, Xinhua News Agency Europe Office, China Top Brands of Xinhua News Agency and the QSC Foundation. It covers a wide range of topics including sustainable cities, green transportation, green buildings, green technologies and more with its ultimate objectives of international cooperation and global sustainable development.