2013.06.05
"Delta Sunshine School" Kicks Off at COMPUTEX TAIPEI Showcasing a Future Smart Green Life with Delta's Latest Green Building Technologies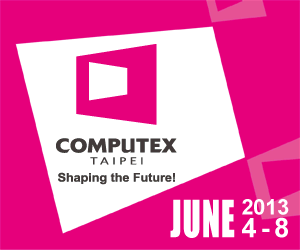 The"Delta Sunshine School", Delta Group's landmark booth exhibition held its grand opening today at COMPUTEX Taipei 2013, in the TWTC Nangang Exhibition Hall. With the spotlight on energy-saving green building practices, the Delta Sunshine School showcases Delta's latest green products and technologies for daily application. Yancey Hai, chairman of Delta Electronics, and Ping Cheng, CEO of Delta Electronics, hosted the grand opening press conference for the Delta Sunshine School, and reaffirmed Delta's promise of"Smarter. Greener. Together." for consumer applications.
"Our exhibition incorporates Delta's mission, corporate social responsibility, and green, energy-efficient systems and products," said Yancey Hai."Delta believes saving energy is efficient to cope with energy and climate change related issues. We are dedicated to developing a variety of high-efficiency and energy-saving solutions and products. According to our calculations, in the past three years Delta products shipped worldwide have saved about 930 million kilowatt hours of electricity. We have applied these products to well-known green building schools, such as the Min-Chuang Elementary School in Namasha District, Kaohsiung City, not only to maximize energy saving results but also to integrate energy education into the school environment."
Ping Cheng said,"To fulfill our corporate mission, Delta has dedicated our expertise in power electronics to providing more energy-efficient and clean solutions to individuals, families, businesses, and industries. We also want the community to know that we are doing more, and doing it better, for the sustainability of our environment. By participating in COMPUTEX, the world's econd-largest information technology trade show, Delta has the opportunity to introduce our latest energy-efficient solutions and smart green life applications, as well as to promote a green, energy-saving lifestyle for the future. In addition, when we started to design Delta's COMPUTEX booth, our goal was to achieve the maximum educational benefit with a minimum impact on the environment, which is why 95% of the booth's construction materials are recyclable. After the show we will move our booth displays to Delta's Sunshine Building for a special exhibition that will continue to promote a green energy-saving lifestyle."
The"Delta Sunshine School" show area displays several school scenarios that feature Delta's latest power, energy management and smart green solutions that visitors can experience directly. The school scenarios include:
Classroom – This interactive teaching scenario features Delta's latest education-oriented ultra-short throw projector the Vivitek D755WTi with NovoTech teaching software projecting onto a 100-inch screen system that uses an induced frame with built-in optical reflection positioning technology. This area also features Delta's energy-saving LED lighting.
Library – The library service system uses Delta datacenter solutions and Wi-Fi networking technology. This area also features Delta's latest portable projector, the Qumi Q7, to display high resolution teaching content and art. The Library also employs Delta's full series of LED lighting applications with remote control technology.
Hallways – Delta's integrated display technology creates a virtual playground with an interactive projection of students having fun playing hopscotch in the school hallways during a break.
Outdoor Classroom – The Vivitek D751ST Ultra-Short Throw Projector is featured in conjunction with NovoConnect, wireless applications, and tablets, to support real-time interactive education between teachers and students even in an outdoor environment. Nature may be the best classroom!
Tent Area – The stylish, compact Qumi LED portable projector transforms a tent into a mobile cinema. Connect the Qumi projector to your portable device and you will never miss your favorite live sports programs.
Outdoor Rest Area – Delta's Innergie mobile power solutions include the Dual USB charger. Delta will set up over 10 Innergie mobile charging stations for free trial in the Nangang Exhibition Hall and Taipei World Trade Center Hall 2. We welcome everyone to charge your portable devices using our Innergie mobile charging solutions.
EV Feeder Bus Station – Delta's renewable energy applications, high-efficiency EV charging equipment, and WiFi environment supports clean, low-carbon, and convenient transportation.
Delta Sunshine School (booth number: L0118) is located on the 4th floor of the Nangang Exhibition Hall. Please visit us at Computex 2013 from June 4-8.