2013.05.27
Delta MCIS Rolls Out the Ultron HPH Series UPS Providing the Maximum Power and Cost Efficiency to Protect Critical Operations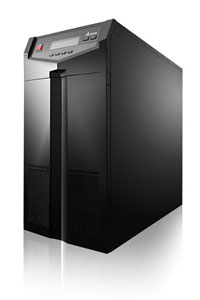 Delta is rolling out its new
Ultron HPH series
true online double-conversion UPS (uninterruptible power supply). Equipped with Delta technology that includes the Triple Level Inverter (TLI) and Three Phase PFC topology, the new Ultron HPH Series is the best business investment for continuous operation of mission critical applications. It provides a best-in-class combination of maximum available power, unbeatable energy efficiency and superior power performance for small data centers as well as for industries involved in factory equipment, communication systems, computer network systems, medical treatment systems, monitoring systems and more.
Best-in-class power performance and efficiency
The Ultron HPH delivers fully rated power (power factor=1, kVA=kW) providing the maximum power capacity to the load without de-rating the UPS. Combined with a leading power efficiency of up to 96% and up to 99% in ECO mode, an input power factor > 0.99, and low harmonic pollution (iTHD < 3%), the Ultron HPH maximizes power availability while minimizing your TCO (Total Cost of Ownership).
Designed for assured reliability
The Ultron HPH has a wide input voltage range of -40% ~+ 20% to cope with harsh utility conditions, seamlessly providing a stable power supply to the load. Other features that ensure system reliability include DSP based technology that enables a reduction in the number of electronic components to lower failure rate, and a fail-safe control mechanism design that eliminates single-point failure. The Ultron HPH also offers a built-in manual bypass to ensure continuous power to the load even if the UPS is under maintenance. The Ultron HPH guarantees a higher reliability to protect your critical operations.
Greater flexibility
Achieving greater flexibility by supporting a wide choice of configurations makes the Ultron HPH the best fit for your application needs. The Ultron HPH can be configured as N+1, standalone, hot stand-by and more. Without requiring extra hardware, capacity expansion is up to 4 units (up to 160 kW). The adjustable charging current and battery voltage help to adapt to different types of batteries, and the flexible battery quantity optimizes your battery investment. The Ultron HPH offers the right features to meet your specific requirements.
Smart management solution
Boasting easy manageability, the Ultron HPH comes with the latest Delta UPS management software UPSentry 2012 and ShutdownAgent 2012, which allow users to remotely monitor and manage their UPSs through a web-based interface. The Delta UPSentry 2012 and ShutdownAgent 2012 also support the graceful shutdown of multi-servers in various operating systems and virtual machines to prevent possible data corruption.
The new Ultron HPH Series from Delta is a complete solution that serves the power security requirements of a wide range of businesses with its maximum available power, unbeatable energy efficiency and superior power performance features. The Ultron HPH not only provides the benefit of a stable power supply, but it also offers cost-effective protection and is the best investment for your ever-growing business.