2013.07.17
Delta MCIS Products Receive Awards and Recognition around the World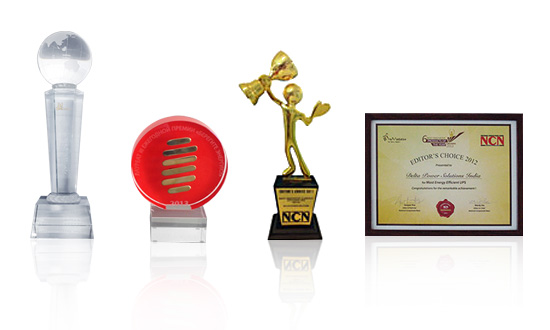 Delta's MCIS (Mission Critical Infrastructure Solutions) business unit has long devoted itself to developing Uninterruptable Power Supply (UPS) and datacenter infrastructure solutions with industry-leading efficiency and reliability to maintain the operation of clients' critical applications. In 2013, Delta MCIS once again received recognition for its excellent and innovative products, winning multiple awards in countries such as Russia, China, and India.
At the "Best Power Supply Solution for Telecommunication Companies" evaluation conference held by Russia's Mobile Telecommunications Magazine at the beginning of 2013, Delta MCIS received the "Best Integrated Uninterruptible Power Supply Solution for Datacenters" and "Editor's Choice" awards. The integrated Delta InfraSuite Datacenter Infrastructure Solutions includes power management, racks & accessories, as well as cooling and environmental management systems. The integrated solutions feature modular design for quick and easy assembly, scalability to match data center growth, optimized installation and operation costs, high efficiency, energy-saving power components for eco-friendly data rooms, easy integration with all data room structures, and a complete environmental management system for worry-free operations. These industry leading features were highly praised by the panel.
At the same time, Delta MCIS has received the annual "Technology of the Year" at the "Save Energy!" awards, hosted by the Russian Energy Agency from the Industry and Trade Ministry of the Russian Federation, for its brand new modular UPS, the Modulon DPH series. The Modulon DPH UPS features an advanced fault-tolerance design, N+X backup structure, superior 96% AC-AC efficiency, and fully rated power factor (kVA=kW) that not only fulfills the demands of retaining expansion flexibility on par with business growth, but also reduces overall costs for the companies. The industry-leading features of the Delta Modulon DPH series UPS gained the recognition of judges, and once again demonstrated the prominence of Delta's research and development technology.
Delta MCIS stood out at the 2013 9th UPS and Power Supply User Satisfaction Survey Results conference in Beijing, China. After strict assessment by experts, MCIS received the "Top 10 Brand in the Power Industry" and "Green Product of the Year" awards. In line with Delta's corporate slogan "Smarter. Greener. Together." MCIS has developed a series of high-performance UPS products that have a small footprint, are easy to be disassembled and recycled, meet ROHS Directives, and offer leading efficiency and reliability. With such industry-leading product features, these two awards are truly well-deserved.
Delta MCIS's innovative products with their excellent energy efficiency and outstanding performance are also well-received in India. Standing out from the fierce competition, Delta's MCIS UPS solution was chosen as the "Most Innovative and Energy Efficient UPS" for two consecutive years by India's NCN Magazine. The Delta UPS solution's excellent reliability, efficiency, and total cost of ownership (TCO) have provided greater competitive strength for clients. This honor once again proves Delta's ability to produce highly productive, innovative, and low-energy consumption products, building a leading position in India's IT industry.
Delta MCIS's UPS and InfraSuite Datacenter Infrastructure solutions have continuously led the market with innovation, intelligence, and green performance. With worldwide recognition, we continue our dedication to creating industry-leading products and solutions to achieve greater competitiveness for our clients.