2013.07.05
Delta Unveils New Ultron DPS Series UPS with a Power Rating Extension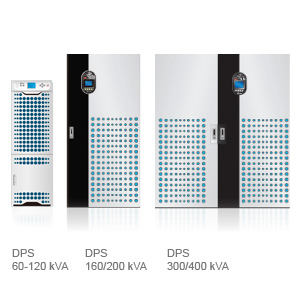 Delta MCIS has unveiled its new
Ultron DPS Series three phase UPS
with an added power rating extension from 60-120kVA, completing the series' power rating from 60-400kVA. The Ultron DPS Series UPS has received excellent feedback from customers since it first appeared on the market at the beginning of 2012. Customers who chose the Ultron DPS Series UPS saw greater benefits due to its exceptional power performance and high system availability. With this successful worldwide launch, Delta has delivered to the market a new range of power ratings in response to a growing market.
Outstanding features are what make the Ultron DPS Series competitive, including a state-of-the-art Triple Level Inverter (TLI), three phase Power Factor Correction (FPC) topology, industry leading AC-AC efficiency, input power factor > 0.99, output power factor of 0.9, and low iTHD <3%. The Ultron DPS Series UPS is set to achieve the highest availability possible. In addition, Delta has included special enhancements for better battery management, hot-swappable fans and ease of maintenance along with the signature compact footprint. These design achievements bring a more stable power supply, higher power efficiency for a low capital investment and even lower operational costs.
Other features of the Ultron DPS Series UPS include:
High Reliability
The Ultron DPS is the solution for high system reliability, wide input voltage, reduced generator impact, and overheating prevention.
Lowered Total Cost of Ownership
Reduced energy loss and lowered operational costs through the Ultron DPS high AC-AC efficiency, even at light load levels.
Simplified Maintenance
The Ultron DPS uses cost efficient redundancy to achieve Zero Downtime, reduced maintenance lead time, and fast and accurate fault error detection. Through its hot-swappable fan, built-in manual bypass, and main I/P, O/P bypass switches, the Ultron DPS is the top choice for simpler maintenance.
High Flexibility
Parallel expansion capability without requiring additional hardware, and a common battery configuration bring flexible UPS options to fulfill your needs.
Due to the overwhelmingly positive reception for its Ultron DPS series 160 ~ 400kVA by customers, including a leading fixed-line operator in Poland, a leading broadband and telecommunications provider in Spain, various major medical centers in Russia and many more, Delta has extended its power rating to cover 60 ~ 120kVA. Overall Delta's Series UPS reach now ranges from 60 ~ 400kVA to serve an even larger customer base.
The Delta Ultron DPS Series UPS is your top choice for high availability, high system reliability, reduced energy loss, and measured power performance. Delta's achievement in design protects your mission critical applications supports with the most reliable and lowest TCO UPS solution available on the market.