2013.10.25
Delta Group to Demonstrate Energy-Saving Solutions for Factories and Power Management at CIIF 2013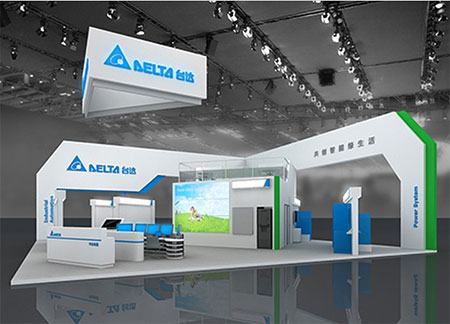 Delta Group—the global leader in power management and heat dissipation management solutions—will showcase "Energy Saving in factories and Power Management" at the China International Industry Fair (CIIF) 2013. Delta is presenting practical solutions to industrial automation, power supply and distribution, motor energy saving, power display/control management and green energy. Long devoted to corporate social responsibility, Delta will demonstrate the group's mission, "To provide innovative, clean and energy-efficient solutions for a better tomorrow", with actual energy-saving results.
Committed to environmental protection, Delta has continuously improved the conversion efficiency of its power supply products and actively developed energy-saving solutions. At the upcoming CIIF, Delta will bring out a whole range of high-performance, highly reliable products and solutions which incorporate Delta's long-term R&D efforts in power electronics. The focal points of the show include:
Industrial Automation Solutions
Delta's industrial automation is dedicated to providing highly effective and comprehensive energy-saving solutions to companies in the industrial field. The leading solutions to be shown at CIIF 2013 are those related to industrial networks, the safe use of electricity, elevators, HVAC, water treatment, and more. Delta's "Integrated Energy-Saving Solution for Factories", is on display for the first time at a domestic exhibition. It consists of seven major systems: a power management system, an HVAC energy-saving solution, a power quality management solution, an elevator energy-saving solution, a lighting control energy-saving solution, an injection molding machine energy-saving solution, and an air compressor energy-saving solution. This complete one-stop solution package is intended to solve the various energy-saving problems typically found in factories.
Power Supply and Distribution Solution
Delta's "Power Supply and Distribution Solution" helps create a worry-free power distribution environment in industrial settings, data equipment rooms and ordinary buildings, while it addresses power quality issues at the same time. The main products on display include: the Ultron DPS series—the most compact UPS of its kind on the market; the Ultron HPH series—a new-generation UPS with optimal performance and efficiency; and Delta's power quality management solution, which features high-precision filtering and integrated compensation solutions. All of these are leading-edge products and solutions in power electronics and control technology throughout the world.
Energy-Saving Solutions for Motors
Delta is devoted to the R&D and production of energy-saving and low power-consumption products. Its highly effective energy-saving products are designed to satisfy the needs of the electronics, petrochemical, coal and chemical industries, among many others. Delta will show two motor energy saving solutions at CIIF 2013, namely a high-voltage frequency converter energy-saving solution and a permanent magnet speed regulation solution. The MVD high-voltage frequency converter, which is a high-voltage AC motor speed regulator independently developed and manufactured by Delta, is highly efficient, highly load-adaptive and has a motor soft starter function. The PMD permanent magnetic driver, on the other hand, is a purely mechanical device designed specifically for speed regulation and energy saving for centrifugal loads such as draught fans and centrifugal pumps. Both solutions are effective at energy saving and can bring about significant economic benefits for industrial users.
Power Display/Control Management Solutions
At the core of Delta's "Power Monitoring and Management Solution" is the Intelligent Monitoring and Management System (iPEMS), which was one of the award-winning at CIIF 2012. This time, the whole new "Power Monitoring and Management Solution" uses iPEMS as its core control system and integrates Delta's world-leading large screen splicing and power distribution products into an industry-level all-in-one power monitoring and management solution capable of data collection, data processing, visualization, and power supply and distribution. This solution can provide a massive amount of visualized information, helping industrial users to make decisions and perform remote control in a timely and effective manner.
Green Energy Solutions
Due to the gradual depletion of energy resources, green energy has become the trend for providing electricity for future industrial use. As an expert in power electronics and with ample R&D and manufacturing experience, Delta has already released industry-recognized integrated solutions which combine wind power, solar power, and power storage functions. The small wind turbine converter and photovoltaic inverter to be displayed at the fair have conversion efficiencies as high as 96% and 98.3% respectively, which once again shows Delta's pursuit of outstanding product performance.
CIIF 2013 will take place at the Shanghai New International Expo Centre from November 5th through 9th. Delta's exhibition is located at C058 in Building W1. Please visit us at the show!