2013.01.25
Delta MCIS is the power behind the most competitive companies around the globe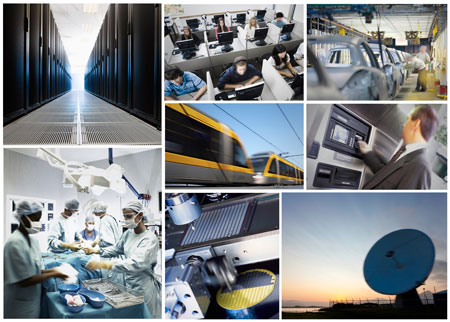 Positioned as "The power behind competitiveness", Delta's MCIS (Mission Critical Infrastructure Solutions) business unit is dedicated to making our customers' businesses more competitive. Our mission is to provide highly reliable and efficient power management products and datacenter infrastructure solutions to ensure the continuity of our customers' mission critical operations across a variety of vertical markets around the globe. The companies mentioned below are leaders in their industries and have chosen Delta MCIS as a partner to help them outperform the competition.
Computing Services
A well-known American multinational electronic commerce company's branch in India
The biggest internet service provider in Russia and the CIS
The most important computing center of China's capital
Telecom
A branch of one of the world's leading mobile telecommunications companies in India
The largest telecom company in Taiwan
The largest fixed-line operator in Poland
The top three telecom carriers in China 
Transportation
The leading metro system in Taiwan
Russia's state-owned railway company which owns the world's 2nd longest railway
The national airline of Turkey
Metro systems in numerous cities in China
Manufacturing
The world's no. 1 semiconductor foundry
A branch of one of the world's largest consumer goods companies in South America
The Indian subsidiary of one of the world's top 10 consumer packaging companies
The largest petrochemical group in Taiwan
The manufacturing base in Thailand of a world leading provider of flash memory technology
Government/public sectors
Taiwan's national health insurance bureau
India's national oil and natural gas corporation
The 2010 Shanghai World Expo in China
The 2011 Universiade in Shenzen, China
Education
The largest economic management institute in northeast China
One of the leading private universities in Taiwan
Finance
A major bank in Peru
One of the largest commercial banks in Tianjin, China
The largest listed and highest rated gold loan company in India
Healthcare
One of the leading children's hospitals in Russia
The largest hospital in northwestern China
One of the largest hospitals in Taiwan
One of the largest global pharmaceutical companies based in India
Broadcasting
The largest broadcasting station in ShanXi, China
Delta MCIS is honored to be selected as a key partner for all of the successful companies mentioned above. We are committed to our customers' continuous business growth and competitiveness. We will also continue to provide the best solutions and services and strive to be the power behind their competitiveness.
Read Delta MCIS success stories, please click here.