2013.09.16
How to build a Gold Level Green Datacenter – Delta InfraSuite Datacenter Infrastructure Solution Takes Center Stage at China Datacenter Summit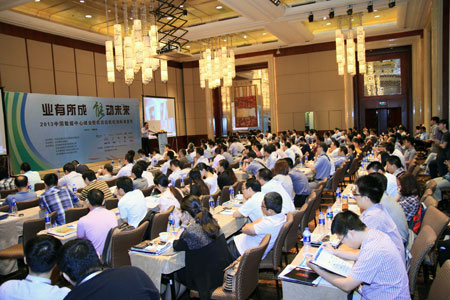 In March 2013, Delta's MCIS unit kicked off its presence at the China Datacenter Summit to introduce Delta's InfraSuite datacenter solution. The summit started in Beijing and is touring around the rest of China. As of September 2013, Delta has demonstrated its energy-efficient and reliable InfraSuite Datacenter Infrastructure Solutions to more than 2,000 datacenter users, partners, system integrators, and professional design houses in 13 cities around China. "Innovative, clean and efficient energy solutions for a better tomorrow" has been Delta's corporate mission statement for 40 years as it has pursued technology research and development breakthroughs. The Summit featured the establishment of the Delta Shanghai office's datacenter. With this success story, we demonstrated to experts and IT managers how to build a gold level green datacenter.
During the Summit, Delta's technical experts discussed how to build a gold level energy efficient Datacenter, and shared current datacenter establishment and operation trends. A gold level datacenter has to reach a standard of PUE<1.43. In the face of various new challenges, Delta introduced the InfraSuite Datacenter Infrastructure Solutions, which can be easier to expand, maintain, and features higher energy efficiency to reduce the operation costs of datacenters. With this industry leading solution, it is easy to build a gold level energy efficient datacenter.
Delta's InfraSuite Datacenter infrastructure solutions assist customers in building datacenters with the lowest total cost of ownership and excellent efficiency, while providing a modular structure and high flexibility. This industry-leading solution makes Delta a leader in the global datacenter solutions industry. The China Datacenter Summit fully demonstrated InfraSuite's outstanding features to the participants, such as overall planning, energy consumption management, PUE improvement, power supply and distribution management, line management, network server management, and fire-control monitoring.