2013.02.22
Delta's Tainan Plant is recognized as Taiwan's first green factory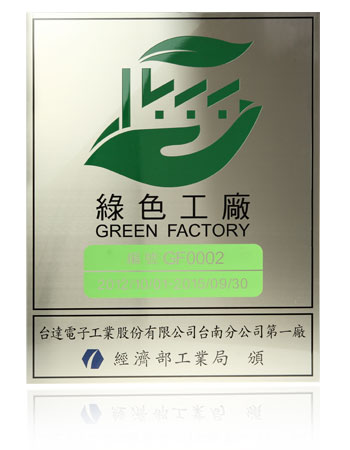 Delta's Tainan Plant has received the Green Factory Label from the Industry Development Bureau (IDB) of the Ministry of Economic Affairs in Taiwan. The award serves as recognition of Delta's efforts over the years in using green architecture in its factories. It is the first green factory in Taiwan to be certified by the Cleaner Production Assessment Method Evaluation of the IDB, as it once again fulfills Delta's company mission statement, "To provide innovative, clean and energy-efficient solutions for a better tomorrow."
"Delta's Tainan Plant is at the helm of green architecture in Taiwan. It was the first factory to meet all top nine indexes of the Ministry of Interior's green architecture EEWH evaluation system. After receiving a Gold certification it was promoted to Diamond certification in 2009," said Delta Chairman Yancey Hai.
Delta's Tainan Plant uses green architecture concepts such as concave shading, natural lighting, unique buoyancy ventilation, a high efficiency air conditioning system, ecological building materials, and rainwater recycling systems. It provides energy savings by as much as 30% and conserves water resources by as much as 50%. In addition, it is complemented with Delta's Burn-in energy recycling system.
Other green energy concepts implemented are low energy consumption high energy conversion efficiency, as well as modular, integrated application solutions.
Leader in Green Label regulations
Besides advocating green architecture, Delta plays an active role in drawing up Green Label regulations. It was also one of the original planners of the certification process. At the early stage of planning, Delta assisted government bureaus in enacting a certification system that covered both software and hardware manufacturing environments. Delta's aim is to promote the overall "green" competitiveness of Taiwan's industries.
Promoting green architecture
Delta is devoted to promoting green architecture and it has adopted green architecture methods for its new buildings around the world. Currently five of Delta's facilities and donated buildings have been certified by the LEED green architecture evaluation system. Another seven buildings have received Taiwan's green architecture EEWH label.
Delta's Tainan Plant and its green architecture initiatives serve as a role model for the establishment and management of green factories not only in Taiwan, but for the rest of the world.