2010.10.15
UPS Tainan Training Center inaugurated with service partner training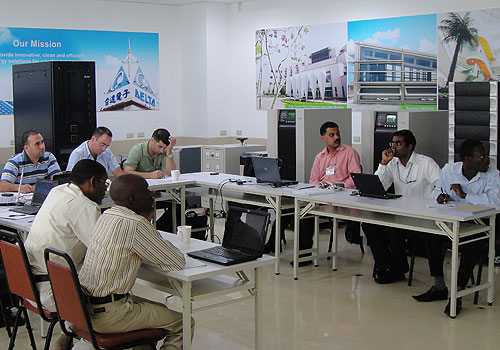 RUBU sets new standards for technical training performance
October marked another leap forward in Delta's UPS business development – the brand-new UPS Training Center was officially opened in Tainan. The first to benefit from this high-end facility were a selection of Delta Service Partners from Bahrain, Kenya, Lebanon and Palestine, who participated in the opening program Certification of Authorized Service Partners.
Equipped with Delta's UPS portfolio and a professional presentation infrastructure, the training center offers countless opportunities for training programs, customer presentations and product studies. "The newly established training center in Tainan lifts our training programs to a new level," said Wolfgang Klampfer, Global Training Manager, Delta Renewable Energies and UPS. "Now we are able to perform practical exercises and immediately simulate problem cases from the field. Our participants have been visibly energized by this."
Delta has been making significant investments worldwide. The opening of the UPS Training Center demonstrates our steady commitment to our people, subsidiaries and partners. It also underlines our sustainable and comprehensive global support.
For UPS product information please 
Click Here
.