2010.10.22
New Amplon RT UPS – compact efficiency to secure your processes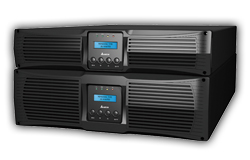 Delta Electronics, Inc. has launched the new Amplon RT 5 kVA, 6 kVA and 10 kVA rack units, the company's latest uninterruptible power supply (UPS) series. These parallel-redundant, single-phase UPS systems are specifically designed to protect mission-critical IT systems, telecommunications, Voice over Internet Protocol (VoIP), network equipment, and light industrial applications against costly damage from power failures and disturbances.
The Amplon RT series leverages double conversion on-line topology, which ensures better filtering and more stable voltage to the load. Its genuinely parallel-redundant system offers worry-free reliability. With an optimized 2U (5 kVA or 6 kVA) or 3U (10 kVA) form factor in a solid enclosure, the Amplon RT is ideal for installation in a standard 19-inch rack space.
"With an output power factor of 0.9, the Amplon RT series delivers more real power than most competitors. For example, a 5000 VA circuit delivers 4500 watts of output power, while most competing systems typically supply only 3500 watts," said CC Yang, Senior Product Manager of the Renewable Energy & UPS Business Unit. "The Amplon RT series delivers more wattage to protect equipment, create economic benefits and guarantee a high level of reliable power to critical data center facilities."
Additional features of the Amplon RT 5–10 kVA include the following: 
Wide input voltage to reduce battery discharge and prolong battery life 
Optional external battery pack for longer backup time 
Maintenance bypass box that offers an easy and effective method for maintaining and testing the UPS 
User-friendly multi-language LCD display with a blue backlight 
A variety of peripherals and software that enable remote monitoring and control of the UPS over an existing network or via a Web browser
The Amplon RT 5–10kVA series is currently available in Europe, India, China and South America.

Delta's UPS product range

Delta has more than a decade of experience in designing, manufacturing and marketing uninterruptible power supplies (UPS) globally. The company is committed to developing superior technical products and providing energy-efficient solutions for a wide range of home, office, data center and industrial applications. We offer a complete range of UPSs, racks and management software, and we deliver industry-specific solutions worldwide to a broad range of markets and global customers.

Delta's UPS product range is divided into four categories:
Agilon: UPSs for personal computers and peripherals
Amplon: UPSs optimized for server and network applications
Ultron: high-power UPSs for data centers and industrial facilities
Modulon: modular and easily scalable UPSs