2017.02.16
Ingram Micro to market Delta products in India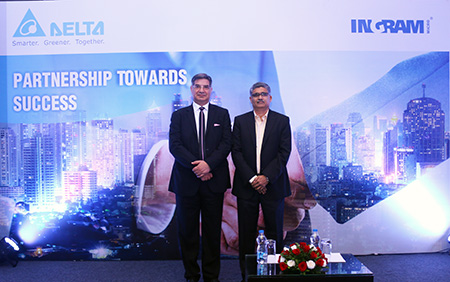 Delta Power Solutions, part of the USD 7.5 billion Delta Group and market leader in switching power supplies, has appointed Ingram Micro as the chief marketer for the company's products in India. Ingram Micro becomes Delta's first major appointment since it shifted focus to the Indian market a year ago. Ingram Micro will market Delta's
UPS systems
,
Data Center Infrastructure range
, and Telecom Power Solutions. A memorandum of understanding (MoU) to this effect was signed between the two companies in Mumbai today.
Mr. Dalip Sharma, Managing Director, Delta India said: "Delta Electronics is a major power supplies provider with core expertise in power electronics design, manufacturing and global operations. Ingram Micro has extensive experience and distribution network in India. This strategic partnership marks a significant step to Delta and brings to both Delta and Ingram Micro the unique synergy to provide customers with unparalleled product solutions and services."
Mr. Deepak Singh Thakur, Director, Delta Power Solutions, said: "Delta is keen to extend its stronghold in the channel segment, and the company's tie-up with Ingram Micro is aptly timed to capitalize on the expected surge in demand from various projects."
Delta is a world-leading company in power management solutions, and it develops advanced technology to increase the energy efficiency of its products in pursuit of environmental sustainability. The company aims to provide innovative, clean, and energy efficient solutions across the globe. Delta's products include power management solutions, telecom power, industrial automation, solar power, display solutions, networking and components.
Ingram Micro, the California-based Fortune 500 company and a leading provider of wholesale IT products and services, will partner with Delta to maximize the full potential of Delta products in India. It will use its broad experience and extensive distribution network in India to offer Delta products as the most viable option to the already burgeoning Indian market. Delta will get the full spectrum of global technology and supply chain services that Ingram Micro offers to businesses around the world.
Mr. Jaishankar Krishnan, Ingram Micro's Managing Director, said: "We believe India is poised for a major infrastructure push and Delta products and services will play a key role in India's immediate plans. The coming together of Delta's technology and our marketing and distribution expertise makes us ideally poised to be a major player in India."
Ingram Micro has a distribution network across 78 cities and towns in India. The partnership will help Delta gain a higher market share in the UPS market. "The tie up will also ensure an increased presence of Delta in IT, government, manufacturing, and the PSU segment," added Mr. Thakur of Delta.