2017.06.16
Delta Electronics leads UPS market corporate segment again according to 2016 ITResearch report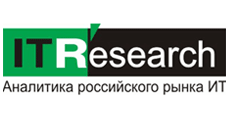 Delta Electronics was rated in the top three for the corporate segment of the UPS market for 2016, according to the ITResearch organization. The rating once again confirms Delta Electronics' position as a key supplier in the segment. The report was published by IT Market Bestsellers, its summary is available at
this website
.
The report findings are supported by numerous projects implemented by Delta for various industries in 2016. For example, Delta Electronics provided the Experimental Demonstration Center of the Digital Enterprise Consortium with data center infrastructure. The comprehensive solution included the Ultron HPH Series UPS, in-row precision RowCool air-conditioning, 42U telecommunications racks, power distribution units (PDU) and SNMP cards. The data center is part of the facilities used for testing and demonstrating the Digital Enterprise complete life cycle management system that is based on the development of the Rosatom State Corporation. Other key projects implemented over the past year include the provision of UPS systems to the Pulkovo Airport traffic control, the Ural Federal University, the GSK Biomed medical corporation, as well as the Research Institute of Pediatric Infections of the Federal Medical and Biological Agency in St. Petersburg.
In addition, last year Delta's distributor Tempesto, using the Delta InfraSuite solution, implemented a data center project for a public sector customer representing one of the federal executive bodies. The solution was assembled in a specially designed container and included racks, power distribution units, air conditioners and UPS.
In 2016, Delta Electronics also executed several projects for commercial data centers. For example, the company provided Miran and IMAQLIQ, one of the largest data centers in St. Petersburg, with specialized integrated solutions, including the Ultron Series HPH UPS with a capacity of 120 kW, the DPS with a capacity of 200 kVA, as well as in-row precision RowCool air-conditioning with a cooling capacity of 35kW.
"The fact that we are again leading the corporate segment proves that Delta Electronics is one of the most significant players in the Russian UPS market, creating reliable and cutting-edge premium solutions that meet the high demands of customers in a wide range of industries," said Maria Mityureva, Marketing and Sales Manager of Delta Electronics. "Naturally, such success depends directly on our distributors and partners' performance. We pay special attention to our partner program and provide a tailored set of preferences to meet the needs of particular clients. We also invest a lot of effort and resources in specialist training. For this purpose, we opened our first training center in Russia in 2015, which contains the wide range of UPSs, the comprehensive Delta Infrasuite solution for data centers, as well as the RowCool precision cooling system."
The ITResearch study notes that the Russian UPS market demonstrated a positive trend in 2016. About 1.08M UPS were sold over this period for a total of USD292.6 million. Compared to 2015, in quantitative terms the figures increased by 4.5%, and in monetary terms by 9.2%.
The ITResearch organization specializes in studies of the current conditions and trends in the Russian IT and AV markets, with over 15 segments. The analysis of markets is carried out on the basis of real sales volumes of a particular model of a device over a certain time period.