2017.11.07
Fully featured DCIM solution (Data Center Infrastructure Management)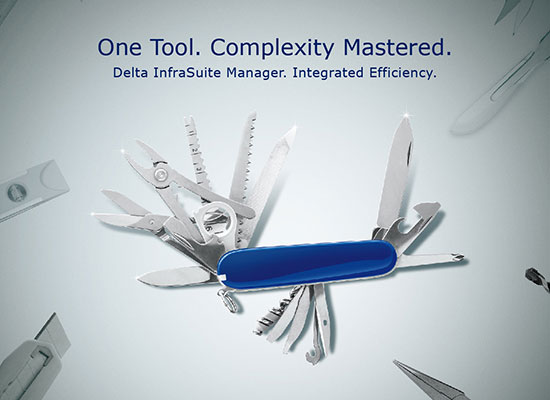 As a comprehensive suite of datacenter management tools, InfraSuite Manager brings visibility and automation to the datacenter for easier management and more effective optimization, now with added functionality. The new Asset, Work Order, and Asset Inspection modules are now available for InfraSuite Manger, a single source of truth for datacenter operators, facilities managers, and executives that provides a centralized overview of all aspects of datacenter operations.
InfraSuite Manager optimizes resource utilization, consequently improving power usage effectiveness (PUE), reducing costs, and enhancing sustainability across entire infrastructures. Increasing power efficiency and optimizing resource utilization also offers considerable benefits with respect to the datacenter's life span. That's because decisions on new datacenter investments and decommissioning are always based to a considerable extent on efficiency, operating costs, and sustainability.
The included software modules perform the following functions:

Base Model
The Base Module is the management platform that displays real-time device alerts and the datacenter floor plan. Data is depicted within the datacenter's physical layout, and recommendations for resolving issues are provided.

PUE Energy Module
The PUE Energy Module handles energy consumption measurement, PUE calculation, electricity cost calculation, and historical data analysis.

Slide Show
The Slide Show module displays instant data, graphs, and charts on video walls. Data from multiple InfraSuite Managers can be integrated into a single slide show, and one InfraSuite Manager can serve multiple slide shows.

Energy Analysis Module
The Energy Analysis Module covers the entire organization including all its sites. Different electricity prices can be used for different organizational units and the formula for calculating energy costs is customizable.

Capacity Module
The Capacity Module gives datacenter managers detailed information on rack space, weight, network resources, and power to enable accurate planning. As the enterprise grows, capacity management is critically important to ensure demands are met in time without wasting resources.

New: Asset Module
The Asset Module allows datacenter managers to immediately locate power and IT assets on the datacenter floor plan and view their operating and capacity status. Graphs of assets for every rack in the datacenter are available, and relationships between power paths and network connections are instantly visible.

New: Work Order Module
The Work Order Module provides an integrated platform for change management that helps users reduce the cost of management while simplifying and merging the process of carrying out changes.

New: Asset Inspection Module
The Asset Inspection Module works in combination with a user-friendly mobile app. Inspectors can scan QR codes and upload photographs of assets to InfraSuite Manager. Inspections are logged, and the integrated analytics functionality supports decision-making.
Delta's InfraSuite Manager, the DCIM solutions have been widely recognized by customers worldwide, such as Tata Communication for colocation services in India, a pioneering fabless semiconductor company in Taiwan, Shanghai Disney Resort in China, a hosting company in Rotterdam, a financial credit rating company in Thailand, and more.
▲ Dashboard of PUE 

 

▲ Rack Management

▲ The Process of Change Management

▲ The Flow of Inspection Execution and Review