2017.05.09
Delta presents solutions for innovative data centers in the Persian Gulf at the Data Center Dynamics Middle East conference in Dubai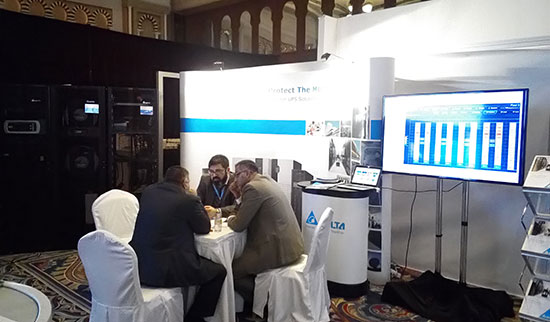 On May 9, 2017, the Data Center Dynamics (DCD) Middle East conference took place at the Madinat Jumeirah resort in Dubai. This important event for IT vendors and industry experts offered information on new solutions and an opportunity to discuss the challenges data centers in the region are facing. Delta participated as an exhibitor and a sponsor.
Digital transformation is a top priority for the countries in the Persian Gulf. The region's booming economy is embracing modern data center infrastructures and the cloud. This development is driven in no small part by growth in the fields of IOT and big data as well as applications associated with smart cities. The need for agile and scalable IT infrastructures in the region is growing rapidly.
George Rocket, CEO and co-founder of the DCD Group gave a talk on the future of the global data center industry to open the conference.. At its exhibition stand, Delta presented innovative solutions for the data centers of today and tomorrow. The company focused on products for energy supply and climate control — two crucial issues for modern data centers in the region.
Cost structures hotly debated
"Our infrastructure solutions for data centers are in demand around the world because our customers are seeking considerable savings on operating costs and energy consumption," said Jackie Chang, President & General Manager of Delta EMEA.
In Dubai, Delta showcased a number of technologies including its innovative DPH series. These modular 75 kW UPS systems achieve AC-AC energy efficiencies of up to 96%. This line of products also boasts a power factor of 1.0. This makes them ideal for environments that require simple configuration and optimal redundancy to minimize potential data center downtime. What's more, the ultra-compact design also saves space. With the rise of commercial real estate rents in regions with booming economies, that's an undeniable advantage. The solution is also characterized by low investment costs and operating costs.
Delta's DCIM platform serves as a capable complement to the DPH UPS series. Administrators use this central management solution to monitor energy efficiency (PUE — power usage effectiveness) and to control critical data center processes. Delta's DCIM gives IT managers a powerful tool that enables agile asset management via remote monitoring, an essential capability for modern data centers.
Great economic potential for Delta's data center solutions in the Persian Gulf
Due to the extreme climate, a stable power supply and constant climate control are both of crucial importance for data centers and IT environments in the Gulf region — as the multinationals currently building data centers there such as Oracle, Alibaba, and Vodafone can confirm.
A large number of experts have now recognized the economic potential of the Gulf region. Digitalization projects have ensured high demand for modern IT infrastructures. "The demand is consequently huge for innovative data centers and cloud solutions in addition to applications tailored to local requirements that can deliver what enterprises need here," explained Jackie Chang, President & General Manager of Delta EMEA. "The Middle East is a key region for us," he confirmed. "Our expertise in power and heat management together with our comprehensive portfolio of energy-efficient and intelligent infrastructure solutions for data centers allows us to support customers in the Gulf region in building new, ecological data centers that are ready to meet the demands of the future."
Official sources in the United Arab Emirates expect a number of companies to start shifting their focus towards Dubai for data center investments from 2017 onward. To master the ensuing challenges, operators must be ready to completely digitalize their existing environments. The key here is to recognize and exploit synergies. Process optimization and automation will also be essential. The key considerations for the advanced data centers of the future are power supply and cost efficiency. With its proven solutions and cutting-edge portfolio, Delta is extremely well-positioned in all of these respects.