2017.07.05
Delta and Synnex establish strategic partnership to expand into New Zealand Market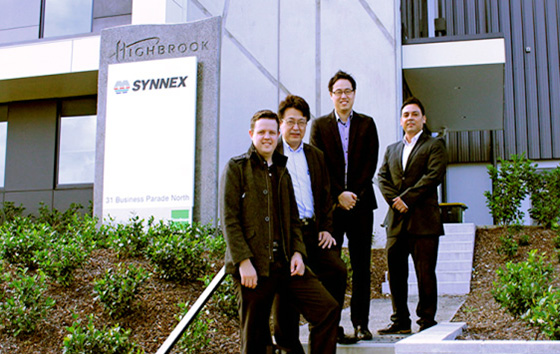 Synnex New Zealand Ltd, a subsidiary of Synnex Technology International Corporation and Delta Energy Systems Australia, the Australian subsidiary of Delta Electronics, have formed a strategic partnership to deliver Mission Critical Infrastructure Solutions (MCIS) in to the New Zealand Market.
The partnership will give Synnex New Zealand's existing customer base access to Delta's highly reliable and efficient power management products and datacentre infrastructure solutions. This will include industry leading warranties and support to protect their customers' investments and to provide them with a competitive edge.
"We are excited to extend our partnership with Synnex across the Tasman Sea to bring Delta's industry-leading MCIS solutions to the New Zealand Market. The partnership with Synnex New Zealand offers strong support for both businesses to grow and it is a great opportunity for Delta to significantly expand our presence in New Zealand." Says Allen Chao, Director of Delta Energy Systems Australia.
Johnson Ko, Sales and Marketing Manager Synnex New Zealand, said, "Delta Electronics is the global leader in switching power supply, offering the most energy efficient power products in the industry. Delta Electronics has also received many global awards in recognition for its innovative technology. Delta Electronics MCIS provide highly-reliable and efficient power management products like UPS and datacentre infrastructure solutions for any type and size of businesses. This partnership reinforces and expands Synnex's power solution offering for partners servicing SMBs to large enterprises by providing access to innovative, reliable and efficient power solutions to ensure the continuity of their business."
About Synnex New Zealand
Synnex New Zealand is a wholly owned subsidiary of Synnex Technology International Corporation, the largest IT distribution company in both Australia and Asia Pacific and ranked the third largest worldwide. Synnex endeavours to service all businesses in the ICT industry including SME Resellers, System Integrators, Computer Retailers, Original Equipment Manufacturers, Corporate Retailers, National Retailers and VARs. Importantly, Synnex has established strategic partnerships with a broad range of leading IT manufacturers.
Synnex differentiates itself from its competitors by its expertise in Supply Chain Management (SCM). The strategic implementation of Just in Time Delivery (JIT) offers scheduled deliveries and an efficient RMA service provides rapid warranty replacement. Superior SCM also ensures inventory is available and items are current.