2017.03.03
Delta India MCIS organized its Channel Partner Meet for 2017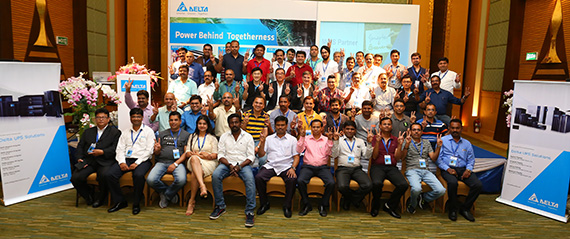 Delta India, part of Delta Group, the world's largest provider of power management and thermal management solutions, held its MCIS Channel Partner Meet at the picturesque place - Pattaya, Bangkok on 28th Feb – 3rd March 2017. Organized by the Delta UPS team, the meet aims to strengthen and expand the current partner ecosystem and to outline the business strategy for 2017.
The partner meet attended by more than 30 partners from across India and from countries in the South Asian Association for Regional Cooperation (SAARC) is an excellent opportunity to communicate and discuss Delta's vision, business strategy and business opportunities emerging in India and the SAARC region. Senior management from Delta addressed the channel partner audience and discussed sales targets for the next season. The company updated partners on new and upcoming technologies from Delta, and on key technology specifications.
During the meet, Delta team highlighted the crucial role its channel partner's play in making Delta's technology and products available to valued customers across the SAARC region. Mr. Dalip Sharma, Managing Director, Delta India thanked the partners for their presence and expressed that this event would benefit partners to understand Delta's strategies & encourage partners to do more business. Delta's main aim for the meet is to inspire, educate, and encourage the partners on achieving the next level. Mr. Sharma then gave the Delta Group corporate presentation, which outlined the company's latest achievements and performance worldwide.
Delta also honored its best performing partners with awards during the event. Mr. Deepak Singh Thakur, Sales & Engineering Head, Delta Power Solutions said, "This meet was a superb platform for effective interaction and optimism for the road ahead. Moving forward, our strong relationships with our channel partners will pave the way for continued success in this important business segment. Our partners can be assured of our total support in strengthening their business." Some of Delta's business partners that received awards for sales performance include: Gold award to Essar Enterprises, Silver award to Starlite Computer Services, Best Service Partner to ABS Systems etc.
Delta is a major player in Double Conversion Online UPS Solutions (1KVA-4000KVA) across the SAARC region. The meet provided an opportunity for Delta and its partners to formulate strategies for mutual growth and expansion in the near future. The three day meet apprised the partners on the latest developments for Delta's global and Indian operations. Delta and its partners plan to work together to discover new business-enabling ways to support success and profitability. Delta's team also updated the channel partners on developments in the existing product range and the launch schedule for Innovative Power Backup Solutions over the next few years in the Indian Market. The meet was concluded with team-building, fun activities and interactive sessions.