2013.03.20
UPS Delta Modulon DPH Series Recognized as Energy Efficient Solution by Russian Experts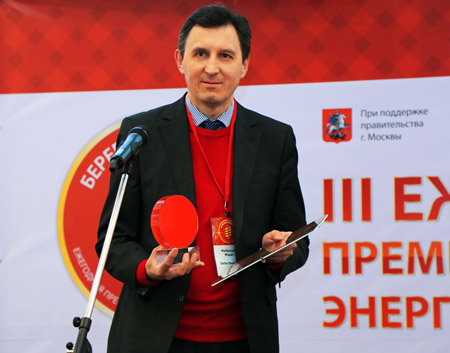 Delta Electronics, a world-leading company in power management solutions, has received the annual "Save Energy!" award in the nomination "Technology of the Year" for its brand new Uninterruptible Power Supply (UPS) Delta Modulon DPH Series. In 2012 the use of energy efficient products made by Delta Electronics allowed the users to lower their power consumption by 3.2 billion kW/h. From the environmental point of view, that means that emissions of carbon dioxide into the atmosphere decreased by 2.03 million tons.
At the contest, Delta Electronics presented to the Award Expert Council a new product – the modular UPS Delta Modulon DPH Series, created specifically for medium-size data centers. Among other solutions reviewed by independent Russian experts, Delta DPH showed the best technical specifications and a very high operating efficiency for its class, which means that the data center owners would be able to dramatically decrease their operational expenses and power consumption.
"Delta Electronics has long implemented green manufacturing processes; we provide innovative, clean and energy efficient solutions for a better tomorrow. Over the last 40 years of its work, Delta Electronics has won a number of prestigious awards in green technologies and environmental protection, including the awards from Global Views Magazine, Commonwealth Magazine, and Green Map System", — says Marat Fayrushin, GM of Delta Electronics in Russia.
A number of achievements of Delta Electronics have been acknowledged by the world community, such as an environmentally-friendly electric engine for the automotive industry, the world's largest power supply systems based on alternative power sources for stadiums, eco-buildings around the globe, and so on. By developing its intelligent power supply solutions, Delta Electronics helps its clients not only to increase their energy efficiency, but also to dramatically lower the emissions into the atmosphere.
About the "Save Energy!" award
The annual award "Save Energy!" is an independent award for outstanding achievements in the field of energy saving, most widely acclaimed by society and business community. The award is supported by Moscow's government, the Russian Energy Agency, the Industry and Trade Ministry of the Russian Federation, and other industrial and social groups. The award is aimed at stimulating industrial development and mass consumption of energy-saving products and services; propaganda of the importance of saving power as a norm of civil conduct; and promotion of the culture of energy saving in the country. Read more: http://www.ensber.ru/