Delta Data Center Solution Day 2019
Date:
2019.03.06 - 2019.09.18
Contact:
E-mail:
mcis.digital@deltaww.com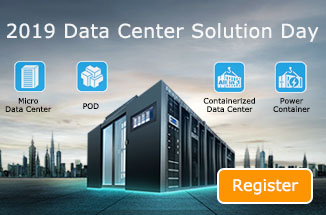 Delta Data Center Solution Day 2019
Overview
New technologies, such as the Internet of Things (IoT) and 5G communications, bring new challenges to IT infrastructure. Cloud and edge computing, as a result, have emerged as the latest requirements. According to a recent CIO survey, the three R challenges of Reliability, Resiliency and ROI are causing them the most concern. As data centers are the backbone of IT operations, how do you build a reliable and efficient data center while aligning your business' IT strategies? Below are the topics we wish to explore with you at Delta Solution Day "Bringing Your Data Center into the IoT Era". Join us for more market insights and our data center proposals.
How do new technologies impact data center trends?

How do you cope with the 3R challenges?

How do you design an optimized data center solution?
A Quick Glance
What's New
Previous Highlight
Session
| | | |
| --- | --- | --- |
| Date | Location | |
| 2019, March 6 | Madrid, Spain | more |
| 2019, April 10 | Hong Kong | more |
| 2019, April 24 | Moscow, Russia | more |
| 2019, April 24 | Seoul, South Korea | more |
| 2019, June 11 | Warsaw, Poland | more |
| 2019, June 18 | Jakarta, Indonesia | more |
| 2019, September 5 | Bangkok, Thailand | more |
| 2019, September 18 | Mumbai, India | |