DPS Series UPS, Three Phase, 160/200/300/400/500 kVA, Scalable Up to 4000 kVA in Parallel
Introduction
Product available regions :
Because product specifications vary slightly from region to region, please download your local leaflet or visit your local website for detailed product information.
| | | | | | | | |
| --- | --- | --- | --- | --- | --- | --- | --- |
| EMEA | North America | South America | SEA | India | China | Taiwan | South Korea |
| ● | | ● | ● | ● | ● | ● | ● |
Leading in power performance and efficiency
In a highly competitive market where UPS performance and reliability are required, keeping pace is simply not enough. To fulfill your current and future needs, choosing Delta's Ultron DPS series is a solution worth considering. It is best suited for applications requiring power ratings of 160kVA to 500kVA.
Delta's Ultron DPS is a double-conversion and IGBT-rectifier three phase UPS. With the three level IGBT topology for both PFC (power factor correction) and inverter, the Ultron DPS features industry leading performance of up to 96% AC-AC efficiency. Thanks to Delta's advanced digital PFC control, it also has low iTHD < 3% and high input power factor > 0.99 resulting in significant total cost of ownership (TCO) savings. Aiming to achieve the highest availability possible, Delta has enhanced special designs for battery management, swappable fans and ease of maintenance.To empower customers to make the optimal choice for their unique energy needs, the Ultron DPS series includes three different cabinet sizes: 160 kVA UPS~200 kVA UPS ; 300 kVA UPS~500 kVA UPS.
Excellent power performance and high system availability of the Ultron DPS provide customers with the benefits of a stable power supply, high power efficiency, low capital investment and low overall operation cost. To increase system reliability in the challenging electrical environments common for today's businesses, Delta has designed the Ultron DPS with an input voltage range -40% ~ +20%, for clients looking to build a foundation on a N+X redundancy / hot-standby configuration. Intelligent fan speed control and redundant fan design that prevents overheating is also featured in the Ultron DPS.
With its state-of-art design, intelligent fan speed control and redundant fan design, Delta's Ultron DPS UPS series provides a cornerstone for power performance and efficiency.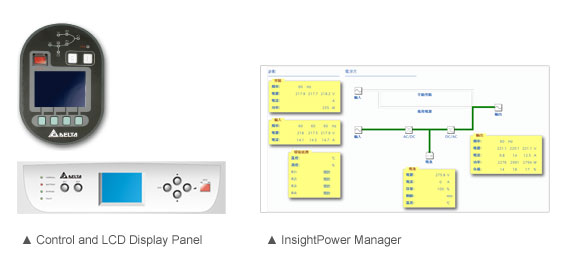 Applications