2018.11.01
Delta's high-performance Ultron HPH 200 kVA UPS earns prestigious funkschau Readers' Choice Award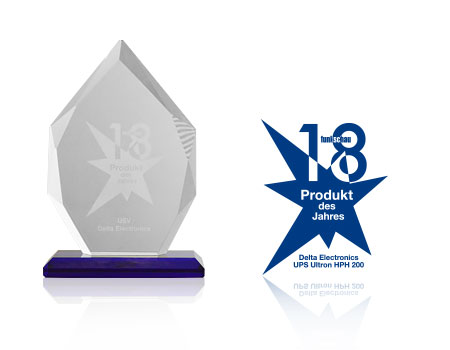 funkschau readers have once again chosen an uninterruptible power supply from Delta. In the technical magazine's Readers' Choice Awards for ICT Product of the Year, the
Ultron HPH 200 kVA
won 2nd place in the UPS category. This is the third time in a row that Delta has been honored with the award. In 2016 and 2017, a UPS device from Delta was among the top three. Over 7,000 readers voted on more than 350 products in 24 categories this year. The award ceremony took place on October 11, 2018 in the Seehaus restaurant in Munich's English Garden.
The Ultron HPH 200 kVA UPS – performance, availability, flexibility
Here is a quick summary of the award-winning UPS's features: This online double-conversion UPS is suitable for mid -sized applications from 160-200 kVA and belongs to the Ultron HPH series, which includes models to satisfy application requirements ranging from 20 to 200 kVA. With the first-rate AC/AC efficiency of 96.5 percent during normal operation and up to 99 percent in ECO mode, the Ultron HPH 200 kVA reduces energy costs while delivering high-quality power by minimizing harmonic distortions (THDi < 3 percent and THDv < 0.5 percent). This high-performance UPS is not only efficient and powerful (kVA = kW), it's also reliable and safe thanks to redundant core components and proactive detection of battery aging. In addition, the Ultron HPH provides maximum flexibility. Up to eight devices can be combined without additional hardware for a total capacity of up to 1.6 MVA — to achieve parallel expansion or redundancy, for instance. The same is true for the batteries. Operators have the ability to implement a range of battery configurations using between 30 and 46 battery blocks. In this way, they can optimize battery system investments. Management and monitoring is quick and easy using the 10-inch color touchscreen which optionally displays information on security, cooling, fire protection, temperature, and battery status as well.
funkschau Readers' Choice Awards 2018 — ICT Product of the Year
For the award ceremony, the publisher WEKA invited the top-three in each category to the Seehaus restaurant in Munich.
The renewed Readers' Award demonstrates the trust that customers have in the quality of the products they chose. Delta was able to impress even more readers with its products and brand this year, resulting in the higher ranking.
At the gala award night, Sebastian Thodam, MCIS / UPS Sales Manager Germany at Delta Electronics, accepted the award for Delta: "We are proud to have received this special award three years running. Second place in the UPS category demonstrates the trust our customers have in Delta. It's fantastic feedback on the work we've done."
Francisco Alvares, Regional Director DACH, is very pleased about the award: "We're delighted that our products have been chosen year after year. But we're not going to stop here. This success will motivate us to continue to enhance our product competitiveness and brand value. The higher ranking this year shows that we are on the right path."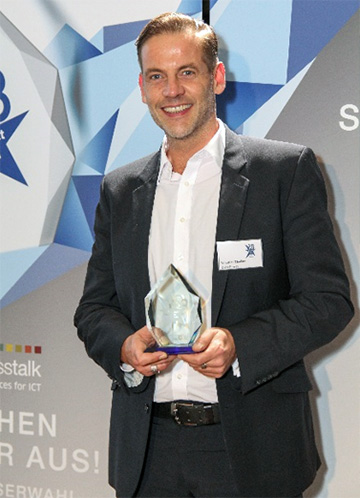 ▲ Sebastian Thodam is pleased to receive the "ICT Product of the Year 2018" award for the Ultron HPH 200 kVA by Delta Electronics. Source: funkschau / Andrea Juranits