2018.06.25
Delta at the CEBIT 2018: Latest infrastructure solutions for edge and cloud data centre attract great interest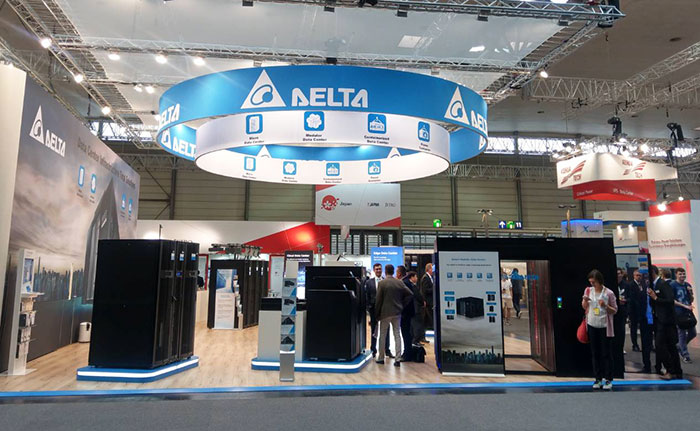 Exhibitors and visitors, lecturers and conference participants – they were all looking forward to the "new CEBIT", which was staged for the first time in June this year and was launched with a completely new concept: As a digital festival, as a trade fair of digital innovations, as a communication and dialogue platform for the digital economy.
From 12 to 15 June 2018, Delta MCIS (Mission Critical Infrastructure Solutions) presented itself in this inspiring environment with a wide product portfolio as a highly innovative provider of ultra-modern infrastructure solutions for edge and cloud data centres. At the booth in hall 12/D113, numerous visitors were able to convince themselves as to how Delta data centres provide a reliable backbone for digitalisation and correspond with the current trends and requirements: On the one hand, the overall market is developing into more specialised data centres, and on the other hand, IoT is pushing data centres towards edge computing. Therefore, they must become more adaptable, scalable and flexible – and that is just what the Delta product portfolio reflects.
Hence, the Delta trade fair highlights include above all the solutions for modular edge design data centres. Standardised modules ensure the highest level of reliability and flexibility, and they are very quickly ready for use. The new UPS series RT 10-20 kVA and HPH 200 kVA with efficiency rates of up to 96.5% are suitable for smaller to medium edge applications. The Delta UPS RT 10-20 kVA is one of the smallest of its class (20 kVA power rating with 2 height units) for total integrated power solutions. The RowCool precision cooling from Delta is also ideal for modular edge data centres; it offers the world's most effective cooling solution with a width of 600 mm and a variable fan speed for lower power consumption.
Cloud data centres benefit from Delta's new high-performance UPS systems in modular design (DPH 500 kVA) and as monoblock units (DPS 600 kVA): They cover the large power requirement of cloud data centres and ensure high power density, high power usage effectiveness and high reliability. Delta's new lithium ion battery for UPS systems with an energy storage density of up to 51.8 kWh in a 19" cabinet also met with considerable interest; it is the ideal solution to substantially reduce the total cost of ownership in data centres. Additionally, there is the flexibly usable busway system of the BR series with reliable power distribution for low voltage.
Delta offers the InfraSuite Manager (DCIM) for the management of data centres: The software monitors and controls the entire infrastructure including the power supply and IT systems.
More than 50 VIP partners and customers held discussions with the Delta experts. At the international press conference at the Delta booth, journalists from all over the world were informed regarding the innovative data centre solutions from Delta; during the subsequent tour of the booth with detailed explanations of the various products, the media representatives were particularly interested in the flexible, modular data centre concepts.
Charles Tsai, Head of the Mission Critical Infrastructure Solutions (MCIS) Business Unit explains: "The two trends – cloud and edge – also show in the solution applications of our European customers. Last year, Atos for example, one of the worldwide market leaders for digital transformation, installed our modular UPS solutions for the protection of its MW data centres in Spain."
Jackie Chang, President and Managing Director of Delta for the EMEA region (Europe, Middle East and Africa), summarises: "Due to the vast amounts of data that occur at IoT, it is impossible for centralised data centres to manage the entire data flow. Therefore, many data centres will arise in the edge area. On the other hand, companies are increasingly shifting more and more IT capacities and infrastructure into the cloud. All of this requires progressive infrastructures for the power supply, cooling and management of data centres. All in all, the trade fair was a great success for us. We have identified the market trends for data centres at an early stage and have just the right solutions for our customers."