2018.07.05
Delta Electronics, the Energy Efficiency Planning Expert, Builds the World's First LEED v4 ID+C Gold Certified Green Data Center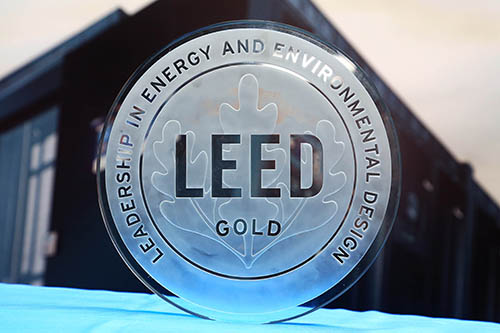 Going Green
Delta Electronics has long embraced its mission of "Smarter. Greener. Together." by becoming its customers' best partner in protecting critical processes through innovative and energy-saving power solutions. Over the last decade Delta has continued to fulfill its promise to "put its green buildings where its business is" by progressively building 26 green buildings around the world.
Data centers are now springing up worldwide. These data centers must also house large quantities of hardware and power supply systems to support different emerging technologies and applications. Operational stability is critical as well. Reliability is now considered a basic requirement for infrastructure, while energy efficiency is becoming a key requirement as well. Delta drew on its many years of experience with developing energy-saving solutions for customers to partner with the U.S. Green Building Council (USGBC) to plan and build the world's first LEED v4 ID+C (Interior Design and Construction) Gold-certified green data center at its Wujiang R&D and manufacturing center.
The LEED certification issued by the USGBC is recognized as the world's top environmental certification. The awarding of the LEED certification indicates that a building's spaces and construction process satisfied the highest standards for being green and sustainable. Like USGBC, Delta hopes that by promoting the ideals of green building and supporting the construction of green data centers it can communicate to society the Delta philosophy of "To provide clean and energy-efficient solutions for a better tomorrow" as well as reduce humanity's impact on the climate and environment.
The Delta Wujiang data center incorporated Delta's own products and energy-saving solutions during its refurbishment. The data center became operational in 2015 and has achieved a gold-class PUE (Power Usage Effectiveness) rating of 1.29 on average over the last 3 years. A high score was given by LEED for its overall performance in terms of site selection and transportation, energy and atmosphere, and water efficiency.
On-site Surveys to Identify Constraints and Design Practical Energy-Saving Solutions
The Delta Wujiang data center is located within the corporate exhibition hall on the ground floor. It has 135m2 of floor space and is the company's most critical enterprise-grade data applications data center in the China region. To protect critical systems and IT applications such as the ERP system, e-mail system, business process systems and other applications, our challenge was building a green data center that met the requirements for LEED gold certification while delivering high levels of reliability and stability.
Resource centralization and system integration was also necessary to make the enterprise data center a technology showcase that customers can easily inspect. Establishing a data center in an office building involves a variety of constraints such as available space, height between floors, as well as the presence and number of external windows, making this a very difficult mission for the engineers in charge of designing a data center. The air-conditioning system in particular consumes almost half of the data center's power so it played a crucial role in its energy efficiency.
The Delta design team conducted an on-site survey and reviewed its past experience with the design of data centers. Tailored upgrades were developed for the four key aspects of the new data center: AC system, power supply, racks and environmental management. The entire data center was divided into a cold and hot aisle containment with a total of 24 racks. When it entered service in 2015 it was designed to host up to 140 kW of IT hardware within 5 years. There is also a TV wall made up of 2x2 LCD monitors that is used to display Delta's InfraSuite Manager data center infrastructure management system, IT equipment utilization and real-time video surveillance. The setup provides complete, real-time monitoring/management of the energy consumption of the data center.
The push for greater energy efficiency meant cooling at the Delta Wujiang data center that abandoned the conventional arrangement of "water-cooled", "air-cooled" and "heat-exchange panel" systems that offered triple redundancy. Space constraints and building requirements resulted in the use of air-cooled, rack-based precision cooling (RowCool series) complemented by a new wind-based energy-saving solution: cold outside air is channeled into the data center in winter for free cooling. A completely air-cooled solution made the most use of existing conditions to control data center temperatures. The data center's AC system was also integrated with the building AC system to maximize energy efficiency. Having separate cold/air aisle improved cooling efficiency by preventing the mixing of cold and hot air. Using RowCool rack-based precision cooling system effectively removes hot spots created by heat sources and prevents IT hardware failures caused by overheating.
In addition to the cooling system, the Delta Wujiang data center also made use of a high-efficiency UPS system, modular racks and a data center infrastructure management system to ensure that the data center was green in every way.
Plan Today, Win Tomorrow
Many businesses or organizations are beginning to realize that over 30% of the physical servers in aging data centers are in long-term hibernation. The cloud computing model is now being increasingly accepted and adopted. As a medium-sized corporate data center with just 135㎡ of floor space, the Delta Wujiang Center was designed to minimize the number of physical servers from the start to satisfy the massive demand for IT services in the China region and to reduce its energy consumption. The use of server virtualization to increase resource utilization, simplify system management and achieve server integration created more flexibility from traditional facilities.
Due to the unprecedented pace of new developments in the IT field, the future scalability, security and sustainability of the Wujiang data center was also taken fully into consideration during its design.
The power supply solution uses the Delta Modulon DPH series, a high-performance UPS that is fully modular, hot-swappable and has an AC-AC efficiency of up to 96%. The hot-swappable power supply modules enable seamless upgrades at the Delta Wujiang data center over the long-term. The power distribution unit has a modular design as well. Its output breakers are hot-swappable and the two sets of distribution boards can each be expanded to 42 breakers to provide an outstanding power protection and monitoring capability while its flexibility and scalability means it can be tailored to the actual power distribution requirements. All of these design features ensure that the Wujiang data center can be easily expanded to meet the needs of IT growth over the next five years. For safety and security, a smoke warning system and face recognition system ensure a high level of security for the entire data center.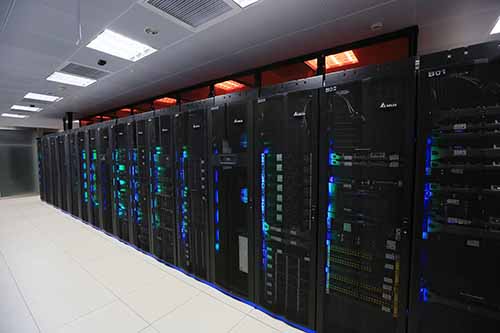 Renewable energy for sustainable development
The power consumption of data centers is now an important corporate issue. The industry has been focusing on how to become greener through lower energy consumption. An increasing number of organizations calling for action on data center energy consumption has shifted user attention away from efficiency to sustainability. The use of renewable energy, tailoring the data center cooling system to local conditions, and other initiatives during the building of the Delta Wujiang data center helped optimize green energy performance.
The photovoltaic system installed on top of the Wujiang R&D and manufacturing center for example supplies 4% of the data center's power needs and generates around 20,000 kWh of renewable power every year. Such efficient use of renewable energy meant the Delta Wujiang data center still scored highly during the very rigorous LEED review process.