2018.10.31
Delta Launches Record-Setting High Density UPS with Extended Capacity up to 600kVA/kW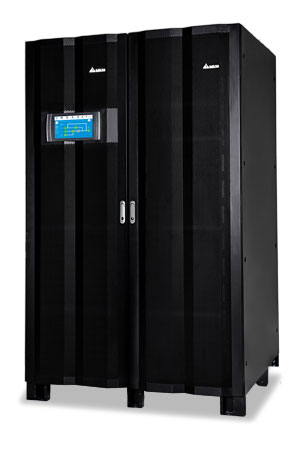 The high per-rack power density of the Modulon DPH series is now available in cabinets with capacities of up to 600kVA/kW. Now data center operators can save even more floor space with cabinets that are only half the width of competing models.
Delta Electronics, Inc., a global provider in power and thermal management solutions, today announced the global launch of its 300-600kVA/kW Modulon DPH series uninterruptible power supply (UPS). The Modulon DPH series UPS now is available in a range of capacities to cover different mission critical applications. Delta's new state-of-the-art online double conversion UPS was previously available in capacities of up to 500kVA with the world's highest module power density of 50kVA/kW. With its latest 600kVA/kW cabinet, Delta now enables advanced control of power module redundancy while achieving an even more efficient use of data center floor space.

Big density for big data
The new high-density UPS models from Delta have been launched at a time when the annual global IP traffic is expected to triple over the next five years. Content-heavy applications such as bandwidth-intensive video, the Internet of Things (IoT), and big data are generating considerable additional traffic, resulting in the demand for greater data center capacity. The industry-leading power density of 50kVA/kW per 3U module achieved by Delta's new Modulon DPH UPS models gives data center operators greater flexibility to adapt to these rapidly changing requirements.
This high density makes oversizing—one of the major drivers of excess data center cost —avoidable right from design phase. Adding capacity later is simple and economical, in contrast with traditional monoblock UPS systems, which require installing enough power for the data center's maximum planned load right from the start. The high power density of the DPH series UPS modules and cabinets also means less space is consumed by power infrastructure, leaving more room for revenue-generating IT racks. With the latest 300 and 600kVA/kW models from Delta, engineers now have even more options when it comes to designing data centers with the right backup power supply capacity.

Performance, availability, and efficiency
Highlights of the fault-tolerant design of the Modulon DPH series include power module redundancy and a dual CAN bus, onboard control logic, and self-synchronization. An added benefit of the adaptable modular design is that critical components are hot swappable. Parallel expansion and N+X redundancy with up to 8 units for a total of up to 4.8 MW capacity are possible. Furthermore, the state-of-the-art microprocessor technology in the DPH series self-detects key components and parameters and supports waveform recording. These advanced features enable accurate event analysis and diagnosis, making the DPH series suitable for high-availability applications such as Tier IV data centers. The latest DPH models from Delta are also an ecological choice, with efficiencies of up to 96.5% for normal AC-AC operation and 99% in ECO mode.
IT managers will be pleased to note that the latest DPH UPSs from Delta also come equipped with a touch screen supporting an environment management system and a battery management system. The large 10" color touch screen allows operators to view event logs and access diagnostic information.

DPH 500kVA proving popular among big telcos, co-location providers
Dr. Charles Tsai, general manager of Mission Critical Infrastructure Solutions (MCIS) Business Unit at Delta Electronics, said, "Since we launched the high-density 500kVA version of our Modulon DPH series, several major telecommunications carriers and co-location providers have deployed this model across Europe and Asia," Tsai continued, "The top telecommunications providers in France and Germany, and a major Dutch co-location and network services provider have installed DPH 500kVA units. We've also got a large project underway in China, with over 100 units currently either being installed or shipping. I'm confident the new 300 and 600kVA/kW models will give our customers greater flexibility to meet their backup power requirements for data-intensive cases such as data centers for IoT and edge computing applications."
More information about Delta's DPH series 50-300/500/600 kVA UPS