2018.01.23
Delta N series 6-10kVA UPS Wins at the 2017 China IT Awards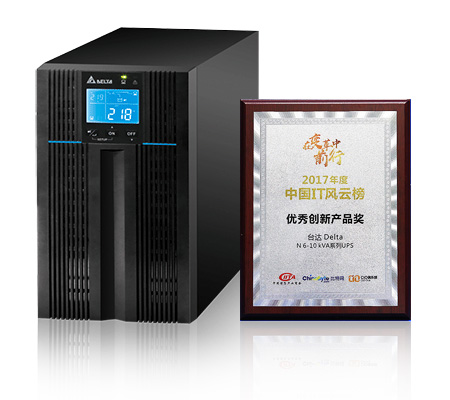 The winners of the "2017 China IT Awards" sponsored by the China Information Industry Trade Association (CIITA) and organized by ChinaByte.com were recently announced. The
N-series 6-10 kVA UPS
product from Delta Electronics was the only UPS product selected in the "Outstanding Innovation Product Award" category for having the "most compact design" and "best performance" in its class. Delta once again demonstrated its exceptional expertise in UPS.
The organizer stated, "As a leading supplier of power and thermal management solutions, Delta leads the industry in the research and development of power supply technologies. The winning N-series UPS product not only leverages innovative technologies for a breakthrough in performance, but also helps customers make the most use of their space. It uses 75% less space than other products in its class in the Chinese market leaving more precious space for IT equipment. The new product sets a new benchmark for compact small power rating UPSs".
Mr. Nan Li, the Director of Data Center Infrastructure Solutions at Delta Greentech (China) Co., Ltd. said, "We are honored that our Delta N-series UPS won this important IT industry award. We are very grateful to the industry for its recognition of our sustained efforts and continuous innovation. The continued development of digital trends means the demand for IT equipment from the government and small businesses as well as the financial and commercial sectors are growing rapidly. By drawing upon our expertise in power management solutions, Delta can supply products with advanced specifications and enhanced performance tailored to industry requirements that help customers maintain their competitiveness".
The use of small-power-rating UPSs is critical to the development of users' core business. Small-power-rating UPS products also demand a higher level of R&D expertise, function design, and support services. In keeping with Delta's longstanding commitment to technology and quality, the award-winning N-series 6-10 kVA UPS not only offers high reliability, excellent performance and exceptional system efficiency but also the most compact form-factor and best performance compared to other products in its class from around the world. It provides critical equipment such as workstations, base stations, ATMs and POSs with reliable power supply assurance. The N-series 6-10 kVA UPS was immediately adopted by many equipment vendors and IT system integrators once it was launched in early 2017. It has since won the trust of industry users and its winning of the "Outstanding Innovation Product Award" was widely expected.