2018.03.09
Delta's new Amplon R Series UPS now offers higher value at a lower TCO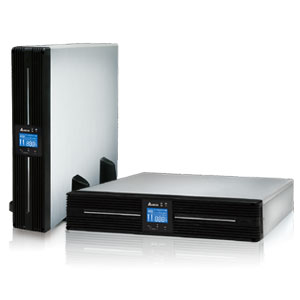 Delta, a global leader in power and thermal management solutions, today announced that its
new Amplon R Series online double conversion uninterruptible power supplies
(UPS) leads the market in wider temperature tolerance, noise reduction, efficiency, and power factor (PF). The new series is available now in the following power ratings: 1kVA, 2kVA, and 3kVA.
Mr. Gary Lin, Product Line Director of Delta's Mission Critical Infrastructure Solutions (MCIS) Business Unit, commented, "Even though the market for small-power UPS is fairly mature at this point, at Delta we still focus on improving these products with innovations that really make a difference to our customers. The new Amplon R Series offers remarkable performance and high efficiency that brings more value at a lower total cost of ownership (TCO) to our customers."
High reliability for various small-load applications
The Amplon R Series provides high reliability in a wide range of scenarios that require backup power for a small load. It is ideal for pan-IT applications at small and medium enterprises to protect servers, laptops, PCs, or office devices. There are also industrial controller applications, such as fire system, security, broadcasting, and environmental monitoring, where the R series can provide continuous protection on a 24/7/365 basis. This product is widely adopted at banks, schools, government agencies, and transportation—wherever there is mission-critical equipment running.
Advanced efficiency and availability
The AC-AC efficiency of this new series achieves up to 93% and even higher, up to 96%, in the ECO mode. It helps reduce energy consumption and operating expenses so users can meet requirements for sustainability targets without compromising availability.
In addition, this product features an innovative structure design that works together with intelligent battery management and fan speed control to contribute to a wide operating temperature of up to 50°C. In applications where the cooling system does not run all day, or the ambient temperature is higher for cost reasons, the UPS can continue to offer 80% capacity at between 40°C and 50°C. Without acquiring a larger rating, the new R Series continues to provide backup power beyond normal work conditions, bringing a significant advantage from the perspective of initial investment.
Value up, TCO down
Mr. Lin added, "With the outstanding performance of the Amplon R Series, customers will benefit from lower capital expenditure and operating expense. Like our existing rack-mountable UPS which has already earned a very good reputation in the IT segment, and from international and regional data centers to server rooms in small or medium companies," Mr. Lin continued, "this new product is the best choice to ensure backup power for a wide variety of small-load applications."