2018.04.06
UPS Day on April 5, 2018 in Amsterdam: power in the data center is changing, and Delta is helping to shape that change.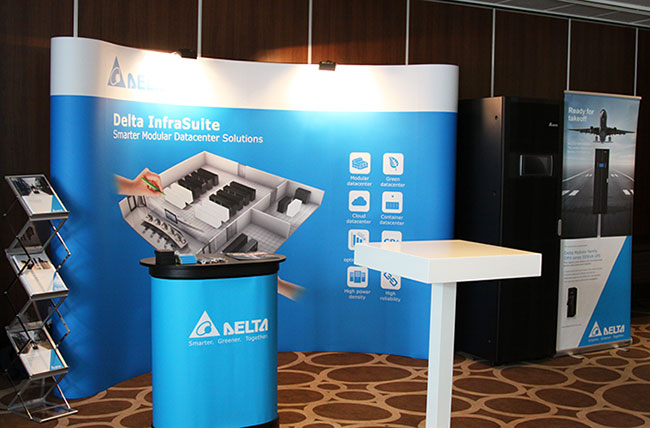 The changing role of power in the datacenter was the focus of the information day organized by DatacenterWorks on April 5, 2018 in Amsterdam. The event covered how datacenter operators, facilities management, and IT departments approach the topic of power supply in the current environment of radical change. Delta MCIS Sales Manager Jack Chou presented on UPS solutions for next-generation data center applications and participants enjoyed the opportunity to meet with peers and talk shop.
The future of the datacenter is taking shape
There were many questions addressed at UPS Day during nearly 4 hours of presentations and talks. The perspective of datacenter operators and facility managers was explored with respect to modern IT facilities and what they require of their power infrastructures.
Jack Chou, MCIS Sales Manager at Delta Electronics, took a closer look at the upcoming generation of datacenters and the types of UPS solutions they will require. With the many new technologies that are changing the types of data that need to be stored and processed such as the Internet of Things, AI, machine learning, big data, and 5G mobile networks, datacenters are evolving rapidly. Instead of massive central datacenters handling most of the load, the future is shaping up to be a symbiosis of edge computing coupled with larger, more efficient centralized cloud datacenters.
The power of putting data on the edge
When data is processed on the edge, low latency applications that use 5G networks, for instance to control machinery, benefit greatly. Furthermore, when requests can be processed closer to the devices and people who use them, network loads decrease. Edge computing facilities are often smaller and more widely distributed. Delta's broad range of UPS products  includes rightsized solutions for both edge computing as well as the ever-larger centralized cloud computing centers.
The cloud is growing, and so are centralized datacenters
Delta's DPH500 UPS is the choice of global leaders in the telecommunications industry including orange, Deutsche Telekom, and China Mobile. The DPH500 attracted considerable interest at UPS Day 2018 if for no other reason than its impressive 500kVA rating — the highest density available anywhere in a single rack. Chou also described the lithium ion battery solution that is now available for the DPH 500 as two strings of 10 battery modules each. "This UPS powers airport datacenters in Poland and South Korea. Hosting providers have also purchased the DPH500 for use in their mid- to large-sized central datacenters," he said. "It's a very smart UPS solution that we're seeing companies select for backup power at modern datacenters in this changing era of cloud and edge computing." Chou then finished off the talk with Delta's DCIM solution, all-in-one datacenter, and a power container implementation.
After closing remarks from event organizer, participants gathered for a networking event.