Uninterruptible Power Supplier for the Healthcare Application
Document Author:
Delta Power Solutions
Product covered:
UPS Solutions
Healthcare continues to make enormous strides technologically. You can see these advancements everywhere from wearable technology monitoring a patient's fitness to startups looking to improve the healthcare industry. This progress is also evident throughout healthcare centers, from hospitals to clinics.
Smart Building Applications
More and more medical centers are relying on technological innovations to manage their facilities. Intelligent Building Management Systems (IBMS), for instance, can coordinate everything from building operations to communications, and give hospital staff the ability to monitor, control, and integrate the proper climate for their patients through heating, ventilation, and air conditioning. IBMS also allows hospital administration to bolster security (perimeter protection, access control and digital video surveillance) and various life safety applications.
e-Hospital with Intensive Information Technology
In terms of data management, Hospital Information Systems (HIS) have also emerged as a big benefit for healthcare enterprises. These state-of-the-art systems provide organizations with a full suite of tools for improving hospital management, clinical tasks, and patient administration.
A good HIS can also assist with operations such as Health Management Information Systems (HMIS), so administrators can better monitor and control the functioning of healthcare facilities across different locations, and assist the medical staff to improve services with readily accessible patient data.
Power Supplies into Medical Devices
The technology surrounding medical devices to assist and examine patients has also come a long way in recent times. Medical devices, from ventilators to MRIs, gas analyzers to centrifuges, hematology systems to diagnostic devices, have all seen strong advances for both patients and doctors alike.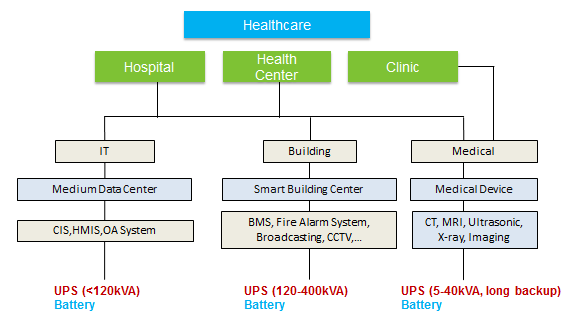 Protecting Critical Operations in the Healthcare Industry
Given how interconnected many of these innovations are, it's no surprise that many hospitals and health care centers have integrated them into tethered systems that work together to power critical functions.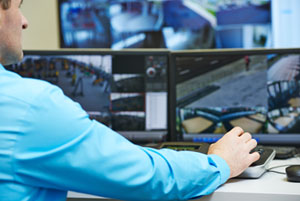 For example, many healthcare facilities rely on building systems such as fire alarms and closed circuit television to monitor their facilities, which are also connected to emergency services such as fire departments. To function properly, these systems must remain at the right temperature through cooling or else they risk overheating.
Data centers are another area in healthcare where attention must be paid to maintenance in order to sustain robust operations. The data centers used by healthcare organizations for storing things such as patient records, medical records and data processing applications are vital in the daily operations of a health center, which depend on energy-reliant equipment such as servers and routers to function properly.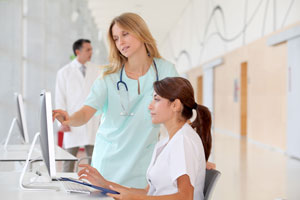 In extreme conditions, data centers in the healthcare sector require a strong contingency power system to keep them running. Add to the fact that these data centers consume mass quantities of energy, and already sustain many organizational transactions, and the ability to ensure these are as dependable and energy efficient as possible becomes paramount.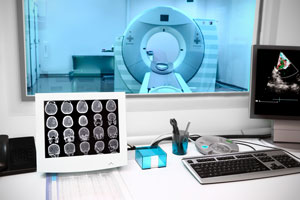 Consider, also, that healthcare facilities require reliable power to operate numerous critical medical care devices. Magnetic Resonance Imaging (MRI), Computerized Tomography (CT) scanners, X-ray, gas analyzers, ultrasounds, and imaging devices are all potential candidates for a UPS installation to ensure their operational performance. Additionally, high-end advanced diagnostic systems require large UPS systems to provide adequate backup.
Given all these interconnected systems, an interruption to power delivery at a hospital for even just a few seconds can disrupt thousands of interdependent operations. Aside from being a jarring experience for patients, a disruption to the power supply at a hospital can lead to equipment malfunctions, system corruption, hardware damage, and data loss.

The Need for Uninterruptible Power Supplies in Healthcare
Power protection systems in medical institutions have higher standards than those for commercial or industrial use. Delta offers a large array of Uninterruptible Power Supplies (UPS) designed to ensure organizations can protect their systems and applications by maintaining a consistent stream of energy, even under extreme circumstances. An uninterruptible power supply is an electrical apparatus that offers emergency power even when other sources of input power fail. These devices are different from a standby generator or an auxiliary or emergency power system in that, even in the event of a disruption to input power, a UPS will provide near-instantaneous protection in the form of energy stored in batteries.
A UPS is critical in the event of a power failure at a hospital or a health clinic— a nightmare scenario for patients, doctors, and families. Under most circumstances, a hospital losing power could be the difference between life and death for any number of patients who are reliant on its systems functioning at optimum levels.
Power problems may create operational or image quality issues with CT scanners, for example. MRI is one of the critical medical systems that required high quality power to operate and provide reliable and consistent imaging performance. A major power failure at a hospital could also open up the organization and its partners to legal scrutiny. Claims of negligence and wrongful death could potentially spiral into costly lawsuits, crippling the entire organization.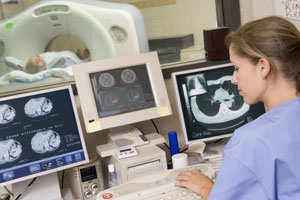 According to a study by the Public Library Of Science, power outages at hospitals were found to impact health at many different levels, from making it difficult to receive care to maintaining what resources are available. The most common cause of power outages in hospitals are extreme natural events, such as snow and rain storms, tornados, droughts, and hurricanes. Natural disasters such as these have been steadily increasing in recent years all across the world, according to The New England Journal of Medicine, with no signs of slowing down.
This creates an alarming future prospect for hospitals, which are expected to be highly operational under extreme conditions. Given the reliance of hospitals and clinics on electricity to operate, the need for robust power solutions has never been greater. And when power is lost—whether from storms, heat waves, tornados, or more—the health of thousands of patients is thrown into jeopardy.
Delta's UPSs function as an essential safeguard against many potential energy issues, including voltage surges and spikes, voltage sags, total power failure, and frequency differences. By ensuring your healthcare center's systems have access to a stable power supply, even during failure events, you can greatly reduce costs while continuing to keep operations running smoothly.

The Delta UPS Solution – Robust Power for Healthcare Continuity
Each medical device has specific dynamic load characteristics and voltage regulation requirements that must be considered. Overall installation has to fulfill medical safety regulations. Delta's UPS engineering team must be involved in definition of additional components to fulfil regulations (like isolation transformers) and in proper UPS sizing and selection for each different type of system. For most equipment, it is better for an FAE to undertake a load study to properly understand load profiles and power specifications. The offered UPS solution should be able to support an inrush and meet overload requirements of the load.
The Delta Group, as the industry leader in power management solutions, has complete UPS backup power solutions for hospitals, clinics, and healthcare centers. Delta's products offer high reliability and efficiency, as well as remote central management and sufficient battery runtime. Delta is also committed to developing advanced technology to increase the energy efficiency of our products in pursuit of environmental sustainability.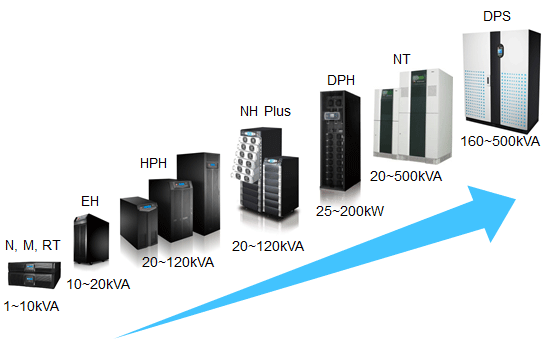 Delta's technical acumen and engineering capabilities has been well recognized and appreciated by industry leaders in the healthcare segment: 
Delta MCIS Provides Russian Academy of Medical Sciences (RAMS) with Power Protection Systems
Delta MCIS (Mission Critical Infrastructure Solutions), in collaboration with its Russian distribution partner CJSC Tempest, won an open bid from the Ministry of Health and Social Development of the Russian Federation to provide high-efficiency power protection solutions for the Scientific Center of Children's Health (NTSZD RAMS). CJSC Tempest collaborated with Delta to replace power supplies for therapy rooms, laboratories, and refrigerated chambers using Delta's

Modulon NH-Plus 100kVA Uninterruptible Power Supply (UPS)

and

Ultron DPS 200kVA UPS

.

"Delta's UPSs have demonstrated excellent stability, superior reliability, and outstanding TCO after installation and actual operation. Their stable performance meets the requirements for medical power supplies. Delta and CJSC Tempest have shown the highest professionalism for this project. We look forward to a long-term partnership with them." L.N. Titov, Deputy Director for the children's health center capital construction budget.

Delta supplies Modulon NH Plus UPS to Second Hospital of Lanzhou University in China
The Second Hospital of Lanzhou University offers medical facilities, first aid, rehabilitation, health care, medical education, and scientific research in one large comprehensive hospital. It is also where the Children's Hospital of Gansu Province is located and it is an important institute for Gansu and the northwest region in China. The hospital implemented a project to improve and guarantee the electricity supply system of its primary operating room. Delta's

Modulon NH Plus Series

by virtue of its outstanding brand and superior product performance beat many competitors and was specially selected by the Second Hospital.