Prefabricated Data Centers as a Global Trend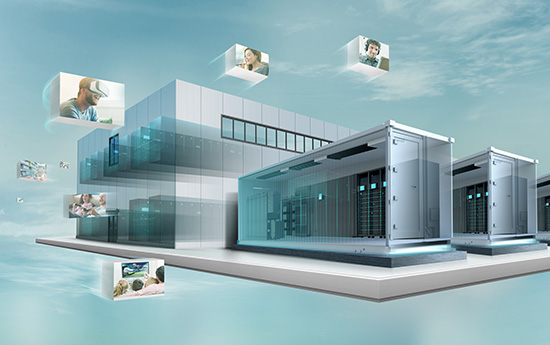 The digital economy is developing and integrating a variety of technologies such as cloud computing, mobile internet, IoT, big data, and others. It is also driving data center providers and users to continuously increase their investment in the construction and services of data centers. The construction of data centers has evolved with application demands.
With the construction of data centers worldwide, the USA still maintains its leading position in products, technology, standards, and more. In 2016, the USA data centers IT investment reached USD84.2 billion, accounting for a 40.4% share of the world market. According to updated data provided by real estate research company CBRE, in 2017 the scale of investment into the construction of enterprise data centers in the USA was USD18.2 billion, and was expected to exceed the sum of the past three years at the end of the year. Meanwhile, the scale of data centers in Europe maintains stable growth at USD36.5 billion in 2016, for an increase of 27% over last year, accounting for 17.5% share of the world market. Mr. Andrew Jey, CBRE Director (Data Center Solutions) said, "In 2017, European data center capacity will achieve a growth of at least 100MW, a record year for the rapid development of data centers." The Asia Pacific region is also highlighted in the global data center market, where the investment scale increased by 13.3% over last year, and the investment scale was up to USD52 billion (excluding Japan). With its rapid development, the Chinese market plays a leading role in promoting the growth of data centers in the Asia Pacific region. New technologies and applications such as big data represented by Internet, cloud computing, IoT, and others, are continuously driving transformation, innovation and growth of enterprises and industries. As shown by the data provided by CCID CONSULTING, the IT investment scale of data centers in China in 2016 was up to USD208 billion, an increase of 9.1% over the same period last year.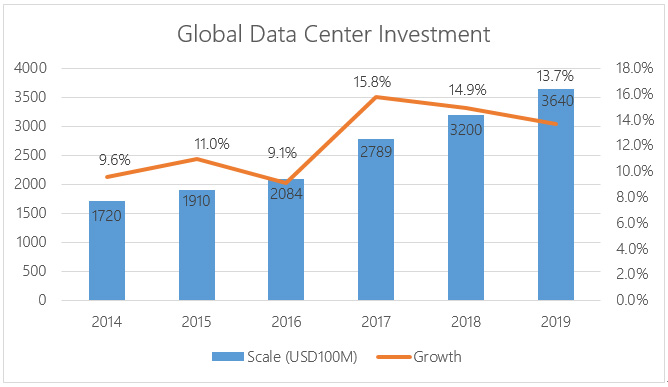 Data Source: CCID CONSULTING, February 2017
CONSTRUCTION OF LEGACY DATA CENTERS CANNOT MEET THE NEW DEMANDS
The rapid construction of data centers is due to the new demands of economic development and market applications, both in quantity of constructed data centers and in quality. Nowadays, the construction of legacy data centers is gradually showing its disadvantages (detailed below), and it can no longer satisfy recent demands.
Long Construction Cycle and Poor Flexibility
It often takes 12 to 18 months to complete construction of a legacy data center, or even longer, and problems encountered may include design changes, coordination of engineering interfaces, analysis of communication protocols, and more, resulting in differences between the ultimately delivered finished products and the pre-designed mock-ups. The longer construction cycle delays profits from data centers, and may also cause the finished data centers to lag behind the market, lowering their corporate competitiveness.

It is difficult to expand the capacity of completed legacy data centers, and it is hard to flexibly adapt to changes in market demand.

Difficult to Upgrade Power Density
In the big data era, information transmission is evolving from words to pictures and then to video, increasing data size exponentially. In the IoT era, a driverless car will generate data of up to 4TB every day, a smart manufacturer will generate data of up to 1PB every day, and a cloud video supplier will generate data of up to 750PB every day. These applications will impose sharp pressure on the infrastructures of data centers. Yet, it will be impossible to expand data center construction areas infinitely with the industrial trend of high-power and high-density construction. Legacy data centers generally adopt RoomCool downflow systems or simple cold aisle containment, making it difficult to satisfy the high power density demands.

Costly
High cost is mainly reflected by one large investment at the initial construction stage, making it costly in the early stages. In addition, small business volumes result in lower loads and lower efficiency of data centers, but with higher power consumption. Construction, management and maintenance costs, and indirect costs resulting from delayed profits due to a longer construction cycle jointly contribute to a higher TCO (total cost of ownership).

Hard to Maintain and Manage
Unaligned equipment manufacturers, inconsistent interfaces and protocols, and manual adjustment in the course of construction make the maintenance and management of legacy data centers more difficult, consuming both time and effort.
PREFABRICATED MODULAR DATA CENTERS BRING A CONSTRUCTION REVOLUTION
A prefabricated modular data center is defined as a data center with its infrastructure units combined in the factory according to project demands and reassembled in the field for immediate use. It is a pre-engineered and standardized solution with high system integration. The reassembled finished products and infrastructure units required for reassembling are independent modules and have modular functionality, independence, combination and interchangeability.
For example, a containerized data center is typically representative of the prefabricated modular data center, which deploys infrastructure in one or more 20' or 40' container that is easy to handle, quick to deploy, movable, expandable, and changeable. Without natural environmental restrictions in respect to its installation, it can be used at military sites, ore exploration sites, or on oceangoing research vessels, as well as in peripheral regions or for disaster recovery. It is six times more powerful and dense than legacy data centers, but the construction costs are not even half that of legacy data centers.
The modular data center evolved from the containerized data center. With indoor use, the shelter or container of the data center can be removed, and of the advantages of the containerized data center are retained.
The containerized data center and the modular data center are typical representatives of prefabricated modular data centers, but are not the only ones. Other data centers reassembled from customized infrastructure may also be regarded as prefabricated modular data centers.
Prefabricated modular data centers have brought a revolution to the construction of data centers, mainly reflected by:
All In One, Without Zoning
Different from legacy data centers that are functionally zoned at the beginning of planned construction, prefabricated modular data centers can organically combine the functions of the server room, power room and cooling room of legacy data centers into a module, thus simplifying design and saving space.

In-house Prefabricated and Assembly Line Production
The infrastructures of the prefabricated modular data centers, like IT rack cabinets, cooling, UPS, power distribution units, and their networks, wires, monitoring, and others, as well as skylights, lighting, door access, panels and supports, including each terminal connecting them, are prefabricated in-house. Assembly line production guarantees the engineering quality and enhances the reliability of the data centers.

Quick "Berthing", and Standardized Installation
Simple reassembly of the prefabricated modules at the site, and "berthing" in place one by one are required. Each module and its inner structures follow standardized installation procedures. This construction simplifies the volume of work, lowers the engineering difficulty, shortens the construction cycle, and also reduces costs. It takes just 1-2 months to complete a data center, whereas it takes 1-2 years to complete one using legacy construction.

Copy & Paste, and WYSIWYG (What You See Is What You Get)
Prefabricated modular data centers can be built on demand and their capacity can be expanded as needed, all on an "as is" basis, WYSIWYG. This flexibility can be investment by installments, and enhance the overall operating efficiency.

High Power Density and Low Cost
Prefabricated modular data centers generally adopt in-row cooling close to hot spots, with an even air flow, but without gradient temperature, combined with hot or cold aisle containment. By using tight air flow management, they largely enhance the cooling efficiency for the rack cabinets, thus achieving rack power density 20kW or higher within just a single rack cabinet, saving space and electricity charges, and lowering PUE at the same time.

One-Stop Professional Services
The planned features of a prefabricated modular data centers also determine that they can achieve one-stop professional services for the manufacturers, thus avoiding buck-passing among different manufacturers. In combination with the advanced and humanized data center infrastructure management (DCIM) solution, it allows administrators to know and control the operation status of the entire data center at all times.
CASE STUDIES
Compared to legacy data centers, prefabricated modular data centers have their obvious advantages. The construction of prefabricated modular data centers is supported and promoted in individual countries in respect to policies and applications. Some IT giants, such as IBM, Microsoft, Google, and others have taken the lead in adopting prefabricated modular data centers. For example, a modular data center in Oregon, USA, demonstrated by Google drew wide attention since it was comprised of 45 containers each loaded with 1,160 tailored servers, with total power of up to 100MW, PUE up to 1.25.
Data centers of internet enterprises in China, such as Tecent, Baidu, Alibaba, and others have also adopted the concept of prefabricated data centers. On September 12, 2016, Alibaba Zhangbei Data Centers #1 and #2 were launched. This is a part of Alibaba's Zhangbei Cloud Based Planning totaling RMB20 billion, which is also the most important infrastructure for various core businesses of Alibaba in Northern China. In Zhangbei, temperatures can be lower than -38°C in winter, and construction cannot be carried out for nearly half of the year. However, Alibaba was able to build two large-scale data centers within just one year. The key was adopting prefabricated modular construction.
As the leading power management and thermal solution supplier in the world and a data center infrastructure solutions supplier worldwide, Delta has a deep understanding of the demands of the data center sector, and has sufficient capabilities to provide data center solutions. Delta's modular data center solutions cover small, medium, and large scales, as well as containerized data center solutions. Their applications can be expanded to meet a range of different scenarios.
Delta's Prefabricated Data Center Solutions
Type
Scale
Application

All-in-one containerized data center

Small

Edge data center
Oil and gas
Mining
Military
Enterprise
Telecommunication base station

Modular containerized data center

Medium

Subsea cable landing station
Internet data center (IDC)
Enterprise or government, i.e. smart city

Power container (power train unit)

Large
Delta's containerized data center solutions have been selected for the edge network of a world-leading colocation service provider in the Asia Pacific region. The unique flexibility and agility integrates different power configurations, energy-saving cooling, smart monitoring and control, and other critical elements into one single platform. In the initial phase of construction, the IT load of each data hall is 3MW, installed with four power containers, with a total power capacity of up to 28MW.
▲ Delta's power container solution safeguards MW colocation data centers in the Asia Pacific region
CONCLUSIONS
While the digital economy promotes continuous construction of data centers, the construction of legacy data centers can no longer satisfy new demands. Prefabricated modular data centers have brought a revolution to data center construction, and have become a popular development trend in respect to data center construction. They are now gradually being used worldwide, and are expected to experience rapid growth in the future. With economic development and changes in application demands, the transformation of data center construction will continue unabated for the foreseeable future.
Delta's InfraSuite – data center Infrastructure solutions – offers comprehensive, modular and highly integrated portfolio to support the creation of high-performance data centers. As one of the top 7 vendors in the global data center power market (Technavio,2016), Delta has further strengthened its leading position in prefabricated data center solutions with a complete offering of power, cooling systems, modular racks, monitoring platforms and more for implementation anywhere.